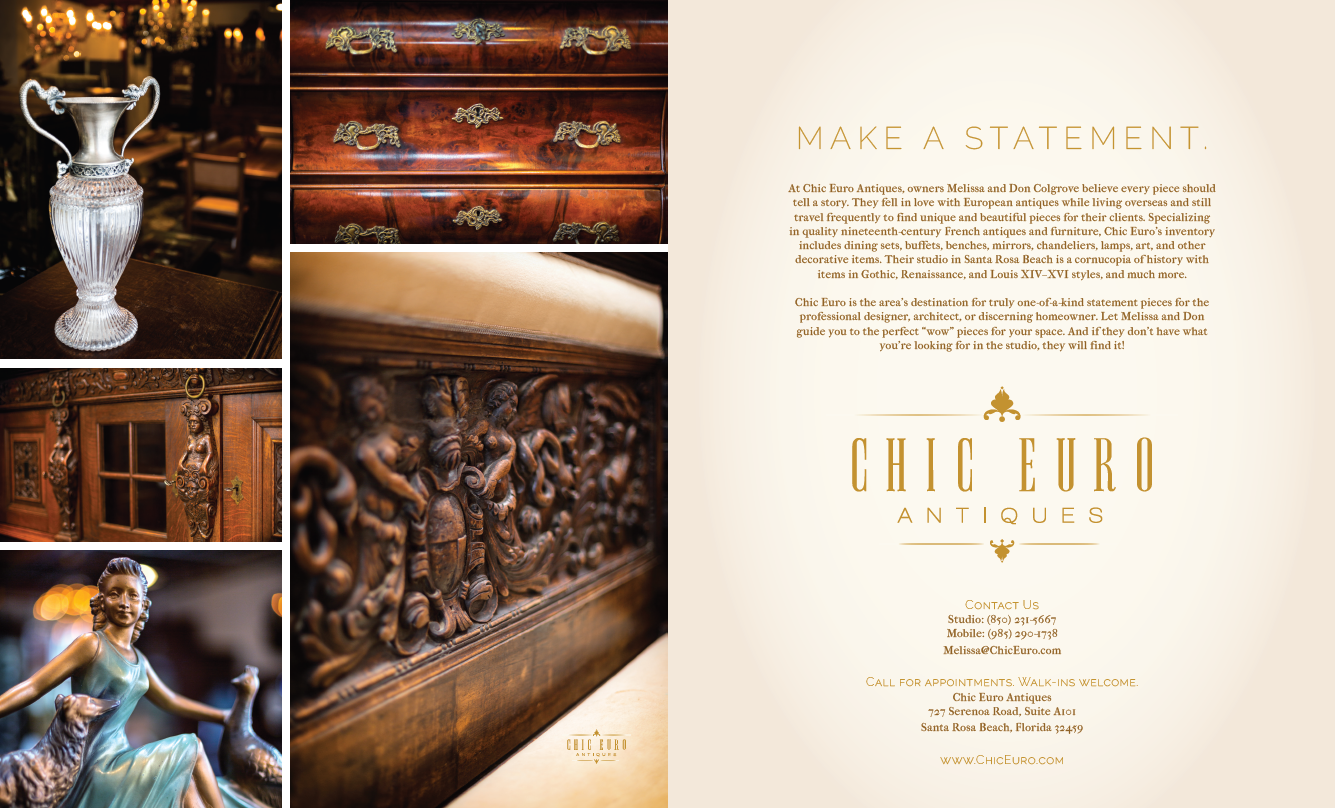 Welcome to Chic Euro Antiques
By Jordan Staggs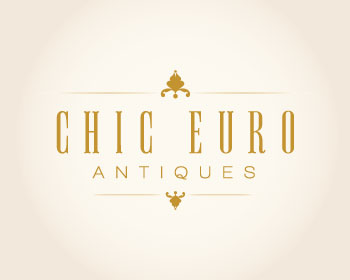 The Idea Boutique is proud to announce its newest client in Santa Rosa Beach, Florida—Chic Euro Antiques. This deluxe antique showroom is located in the Point Washington area just north of Highway 98 in the South Walton Commerce Park on Serenoa Road.
At Chic Euro Antiques, owners Melissa and Don Colgrove believe every piece should tell a story. They fell in love with European antiques while living overseas and still travel frequently to find unique and beautiful pieces for their clients. Specializing in quality nineteenth-century French antiques and furniture, Chic Euro's inventory includes dining sets, buffets, benches, mirrors, chandeliers, lamps, art, and other decorative items. Their studio is a cornucopia of history with items in Gothic, Renaissance, and Louis XIV–XVI styles, and much more.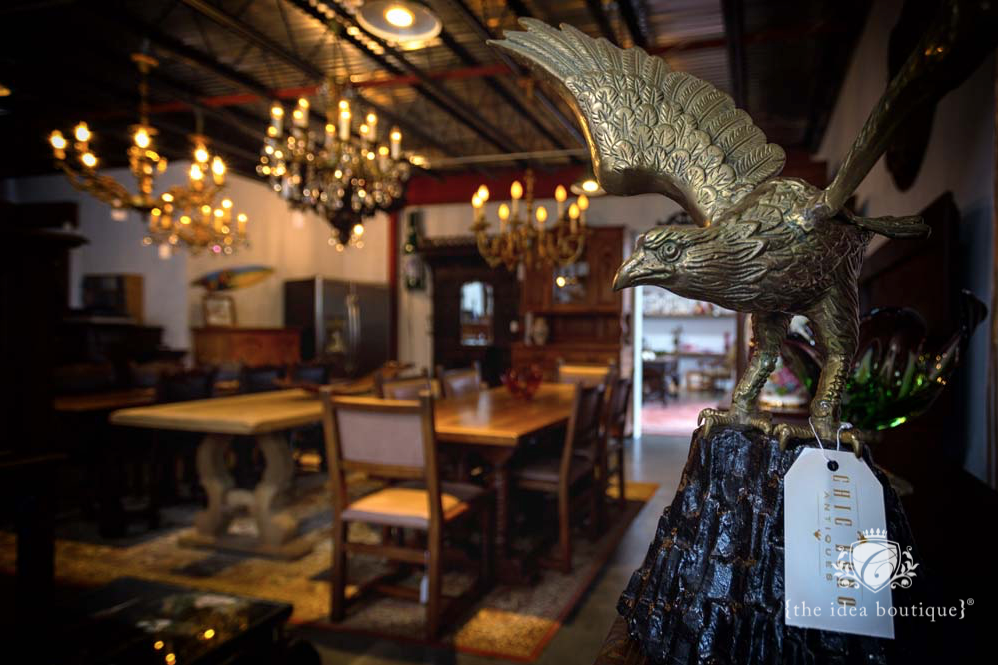 Chic Euro is the area's destination for truly one-of-a-kind statement pieces for the professional designer, architect, or discerning homeowner. Melissa and Don can guide their clients to the perfect "wow" pieces for your space. And if they don't have what someone is looking for in the studio, they will find it!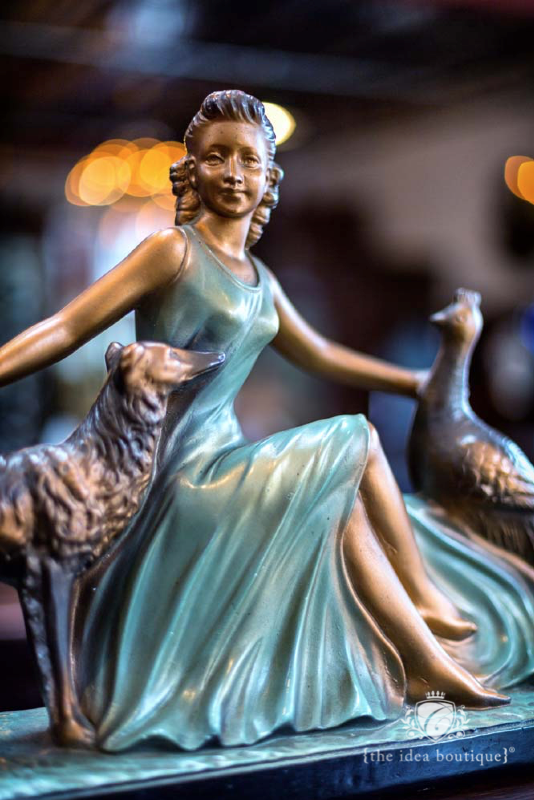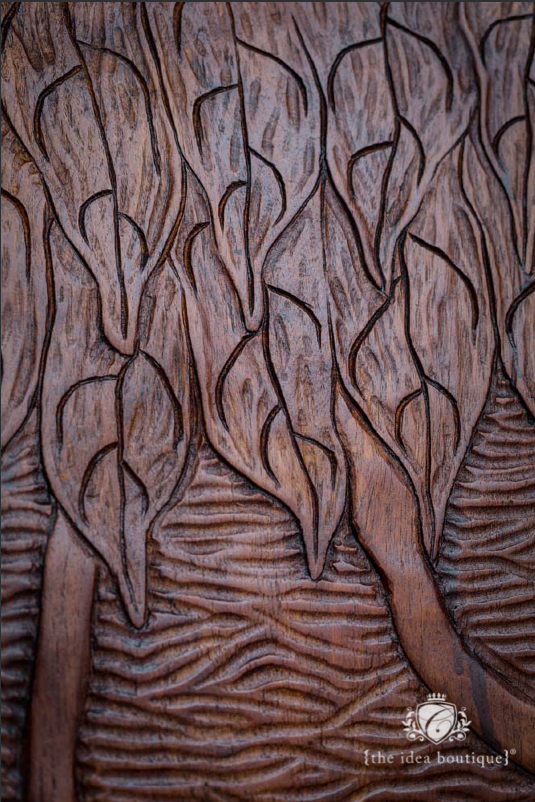 The team at The Idea Boutique will assist Chic Euro Antiques with its efforts to create a luxury brand that is known for outstanding customer service and expertise in the field of antique furniture and home accessories. We have begun building a new website for the brand at www.ChicEuro.com, are planning an advertising campaign for the coming months, creating print and digital design projects, and are helping plan Chic Euro's Grand Opening.
The celebration will take place October 23 from 5:00–7:30 p.m. at Chic Euro's showroom at 727 Serenoa Road, Suite A101. Roux 30a will be catering the event and we look forward to inviting you, so stay tuned or contact us for more information!
In the beginning phases of branding, it's important to maintain a clear and consistent message. This is why The Idea Boutique loves working with a new client to customize its look and communication with its customers. Soon, people will recognize a logo or a tagline, and if the brand delivers on its promise, its positive reputation will grow. Our goal for Chic Euro Antiques is to help spread the word of its beautiful and unique products, extensive knowledge of its trade, and complete attention to outstanding customer service.
We look forward to continued development of the Chic Euro brand and to sharing our progress with you!
Give us a call to see how The Idea Boutique can help build your brand's identity.
(850) 231-3087