Resilient. Relentless. Rebuilding.
---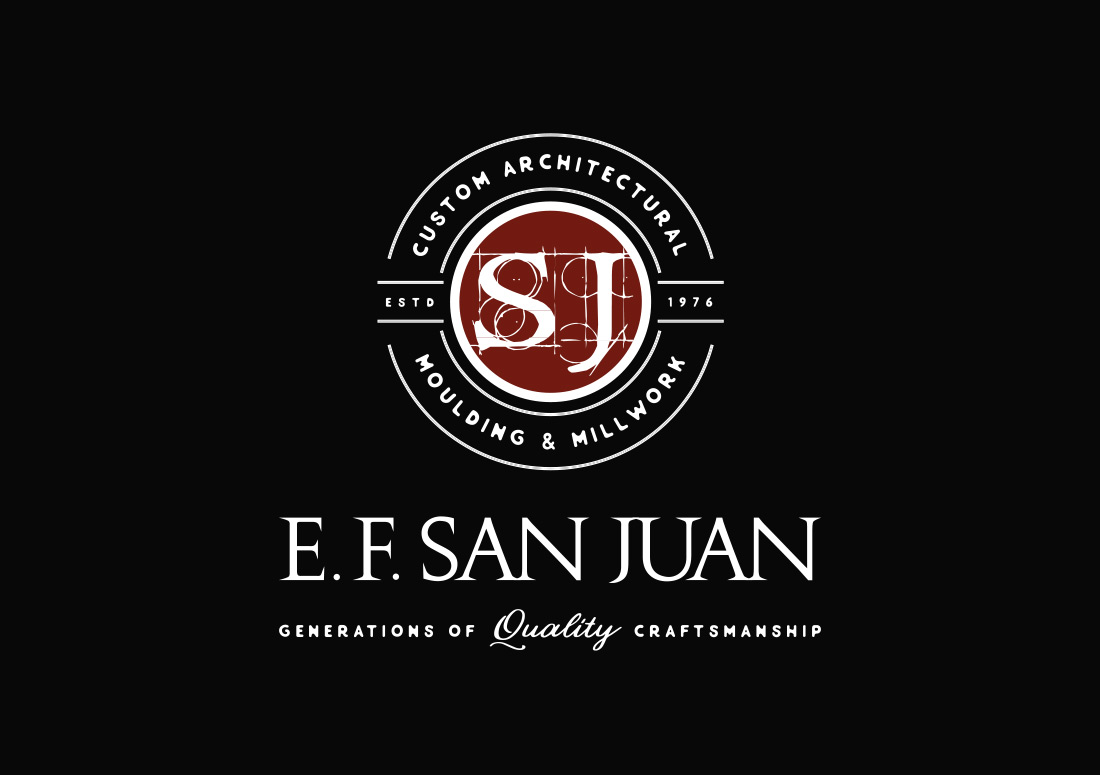 The Idea Boutique was hired by the creators of custom moulding and millwork at E. F. San Juan Inc. in October of 2018 to begin an overall elevation of branding, design, and marketing for their third-generation family owned and operated company located in Youngstown, Florida. Little did any of us know that on October 10, Hurricane Michael would rip through the Florida Panhandle and destroy the majority of E. F. San Juan's production facilities.
President Edward A. San Juan and his leadership team, including his father and cofounder Edward F. San Juan, quickly but carefully determined the fate of their company—in an inspirational effort, they knew they must press on and bring their facilities back up and running as soon as possible for their employees and clients. They also spoke with our founder/president Lisa Burwell and decided to move forward with their 2018–2019 branding and marketing plan. Our team at The Idea Boutique was grateful and inspired by the determination, and we immediately jumped on board to help the family business with crisis management.
Rumors had already circulated that E. F. San Juan would be closing for good, but thanks to swift efforts and a statement from Edward, we were able to create a branded message that was delivered to E. F. San Juan's audience via its website, email database, and social media accounts one week after the storm:
Resilient. Relentless. Rebuilding.

Thank you to everyone who has reached out to us since Hurricane Michael and to all those who have offered their time, resources, and donations to aid our neighbors here in Northwest Florida. Below is a letter from our president, Edward San Juan:

The devastation left by Hurricane Michael has left few unscathed in its wake. There is much to do, and our recovery will require a long-term commitment to rebuilding the area we love and call home. As difficult as it is to view the damage incurred, we have been heartened by the rapid response of many outsiders who are working tirelessly to reestablish our infrastructure. We have met neighbors we never knew. We have hugged, loved, and cared for each other like never before. We have all learned what we think of most in life when everything is in peril, and it is not the things that can be repaired or replaced. Our area is hurting in many ways, but we will recover and we will be better than ever. Let's continue to love and support one another and let's be thankful for what we have today. #panhandlestrong
The message on EFSanJuan.com was accompanied by a recovery timeline put together by the E. F. San Juan team to let their clients and partners know the status of each aspect of the company and when it expected to be back up and running at full capacity. (The door and window sales and service teams were fully operational by October 23, showing the pure determination and motivation of the company.)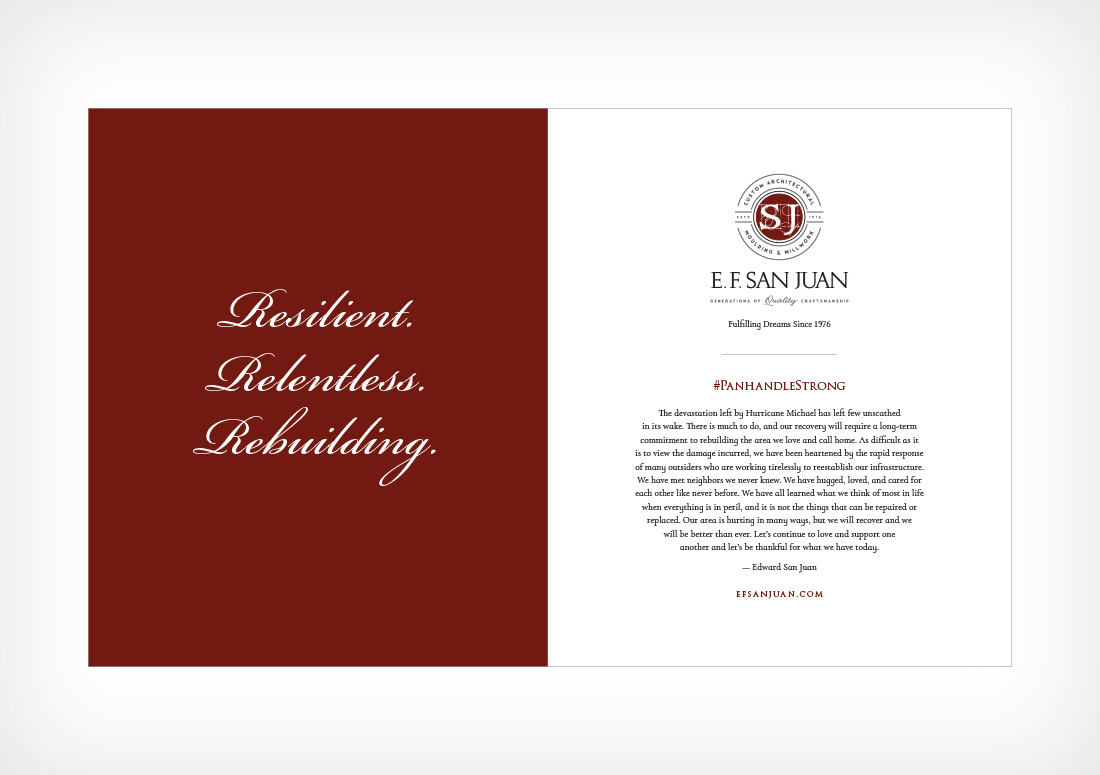 Objectives:
While the E. F. San Juan leadership team was busy with its recovery and rebuilding efforts, The Idea Boutique team moved forward with its branding and marketing plan. From the beginning, our shared goal was to reinforce the well-reputed brand of E. F. San Juan, which was founded in 1976 and known among the local architecture and design community in Northwest Florida for creating beautiful and impeccably crafted artisan wood products for luxury homes and commercial spaces, as well as restoration projects on historic properties including the Historic State Capitol of Florida and more. The effort to grow and strengthen the existing brand meant making sure messaging was clear on all brand platforms, targeting core markets for new business and repeat clients, developing E. F. San Juan's email database and building an email campaign, implementing Google ad marketing in target markets, and building a stronger community and audience for the brand on social media.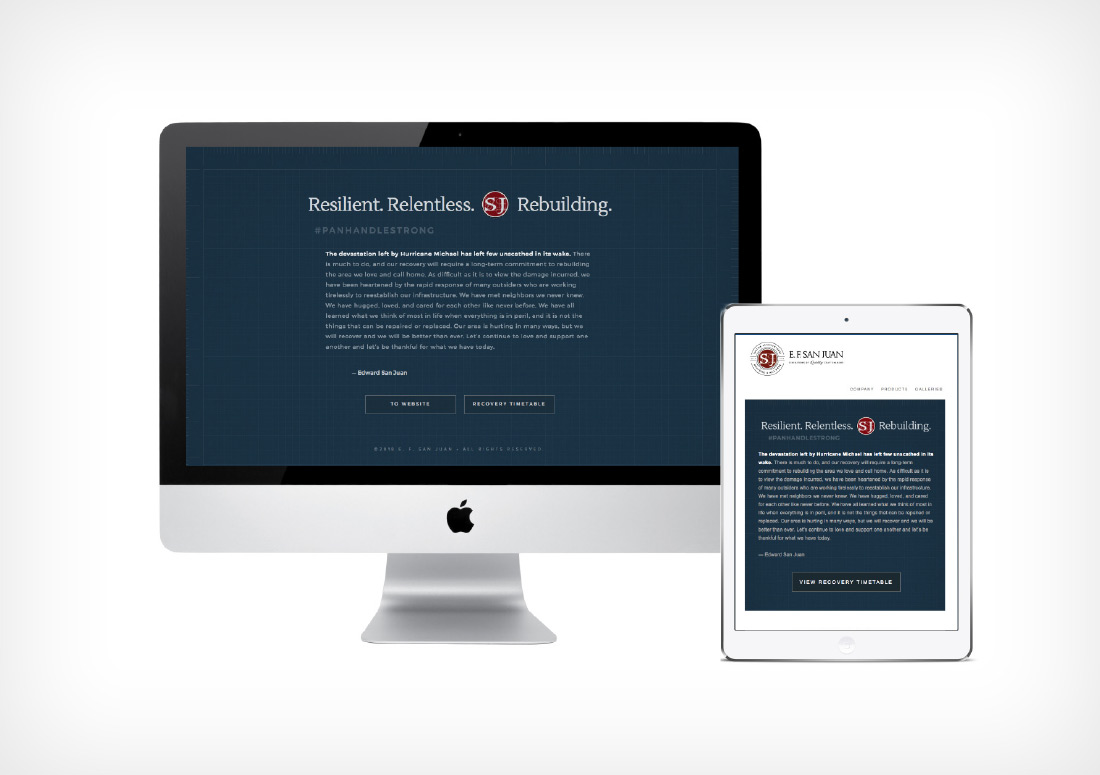 Website & Google Advertising
The Idea Boutique set up Google Analytics on EFSanJuan.com to help the company track its website traffic and see where the majority of its audience came from, determine the most popular destinations on the site, and to help analyze the results of marketing efforts including the email campaigns and social media posts throughout the 2018–2019 year.
While the company recovered from Hurricane Michael, the recovery timeline landing page stayed live on the site's home page until early 2019. Once the landing page was ready to come down, we spent more time working with E. F. San Juan's IT developer to make sure branding was consistent and good-looking throughout the website. Creating new web content also became a priority, so The Idea Boutique created residential and commercial project case studies to show off some of E. F. San Juan's best work over the years. These Architectural Showcases became a highlight on the site's home page and also the basis for the email campaign.
In the summer of 2019, we began a robust Google pay-per-click advertising campaign targeting toward the architecture and interior design industries in the Northwest Florida, Alabama, and Georgia markets. This ad campaign's goal is to drive traffic to EFSanJuan.com so that the company can generate new client leads and show off its work to those in the industry or well-informed homeowners who are researching architectural millwork, windows, doors, and other custom wood products.
Results:
In the first three months, E. F. San Juan's Google advertisements generated almost 5,000 visits to the company's website.

Overall website traffic increased by 111% from November 20, 2018, to August 2019.

Over 9,000 unique users

Nearly 32,000 page views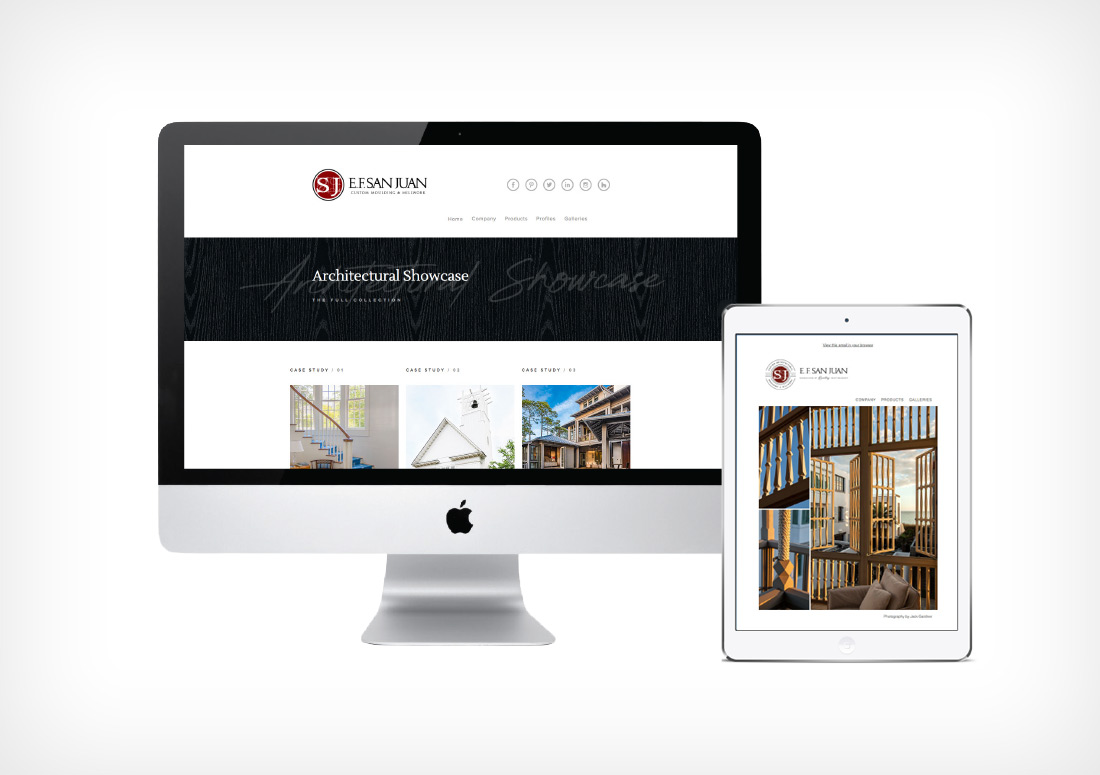 Email Marketing
The goal of a successful email marketing campaign is to keep the brand top-of-mind for its audience and to drive consistent traffic to the website. The Idea Boutique created an email campaign for E. F. San Juan that would be sent to its existing database of clients, architects, designers, and vendor partners as well as anyone else who signed up to download products from the brand's library of Custom Moulding and Millwork Profiles located on EFSanJuan.com. The campaign includes one branded email per month—intentionally spaced out so the audience will not feel they are receiving too many emails and unsubscribe from the service.
The Idea Boutique set up the email service, created a branded template, and developed ideas for the campaign. Emails sent to E. F. San Juan's audience include news updates on hurricane recovery, holiday hours, and featured architectural showcases.
Results:
As of August 2019, the email database includes over 700 subscribers.

Almost 200 new subscribers were added via the "Sign Up and Stay Connected" form on EFSanJuan.com since January of 2019.

Email campaign has an average open rate of 31% (industry average is 18.6%).

Emails have almost 4% average click-through rate (industry average is 1.7%).
Traditional Advertising & Design
The Idea Boutique worked directly with E. F. San Juan as well as with some of its co-op partners to create print ads for local and national publications. The advertising campaign was branded to showcase some of E. F. San Juan's best work and to reinforce the strong reputation the brand has had for quality craftsmanship since 1976.
Our team arranged the media buys and determined the best policy for spending advertising dollars with a variety of publications.
Other design projects included creating new thank-you cards on branded stationery that E. F. San Juan's leadership team uses when sending thanks to its clients. The design and physical cards implementing heavy card stock and letterpress further show the quality craftsmanship that defines the E. F. San Juan brand.
Results:
Strategic ad placements in local and national publications

Reinforces branding and commitment to excellence
Public Relations & Publicity
In the wake of Hurricane Michael, messaging was crucial to make sure E. F. San Juan's current audience knew the truth about what was happening with the company and its recovery efforts. It also presented an opportunity to tell the family's story as they fought the battle to rebuild and make improvements to their existing structure both physically and operationally.
The Idea Boutique closely worked with the leaders at E. F. San Juan to share updates via social media throughout October, November, and December of 2018 while surrounding communities were getting back on their feet.
In January of 2019, we deployed a press release to local, regional, and national media to tell the story and tout the inspirational efforts of the company's team. The story was picked up in local and national publications and helped inform the community as well as audiences across the U.S. about not only E. F. San Juan's story but also the overall devastation and help needed across the Florida Panhandle.
The story was also picked up by woodworking industry publications and led to arranging a speaking engagement with the Manufacturing Executives Panel at the Woodworking Industry Conference in Amelia Island, Florida, in early April. Edward San Juan spoke to fellow executives about overcoming adversity in the wake of a natural disaster and using the opportunity to make improvements. The Idea Boutique also designed a presentation to go along with this speaking panel.
Results:
Local, regional, and national press coverage

Industry-specific press coverage

New press relationships formed

Speaking engagement in front of woodworking industry professionals
Social Media Marketing
The Idea Boutique took over social media marketing efforts for E. F. San Juan immediately following Hurricane Michael on October 10, 2018. This became the most up-to-the-minute platform for sharing news about the company's recovery efforts in the next several months.
Our team began a scheduled posting program on Facebook and Twitter to not only share news updates but also to show some of E. F. San Juan's best work and lead traffic back to its website. We also established a new Instagram account (@e.f.sanjuan) as the brand did not currently utilize this platform. It has become a great marketing tool as audiences on Instagram love seeing beautiful images of homes and commercial spaces that include custom millwork created by E. F. San Juan. It has also been a great place to build relationships with the architects, interior designers, and other industry professionals with which the company often partners.
Other social media efforts included an overhaul of the company's existing Pinterest and Houzz accounts. We separated images on these accounts by creating specific projects and giving more detailed information about each one. This produced an overall cleaner and more user-friendly experience for those who want to explore E. F. San Juan's work via Pinterest or Houzz. The Houzz account also received a new "badge" in spring of 2019, which adds value to the company when other Houzz users see it.
E. F. San Juan's social media audiences are steadily growing and are expected to continue to increase throughout 2019–2020.
Results:
Spreads news and messaging to the community

Keeps brand top-of-mind

Drives traffic to EFSanJuan.com

Instagram audience of 500 users created since October 2018

Facebook, Twitter, Pinterest, and Houzz audience increased and growing

Houzz Badge awarded for 500 Saves of E. F. San Juan content by other users
Summary
Despite initial setbacks due to a natural disaster, The Idea Boutique and E. F. San Juan are pleased with the measured growth and progress the brand has seen in our agency's first year of work. Its website, email marketing, and social media audiences continue to grow while the company's brand equity remains steadfast and well-reputed throughout the Northwest Florida community and beyond.
We look forward to continuing our efforts to elevate and strengthen the brand and marketing program for E. F. San Juan with continued and new initiatives for the 2019–2020 year. Thank you, E. F. San Juan, for trusting us with your business!