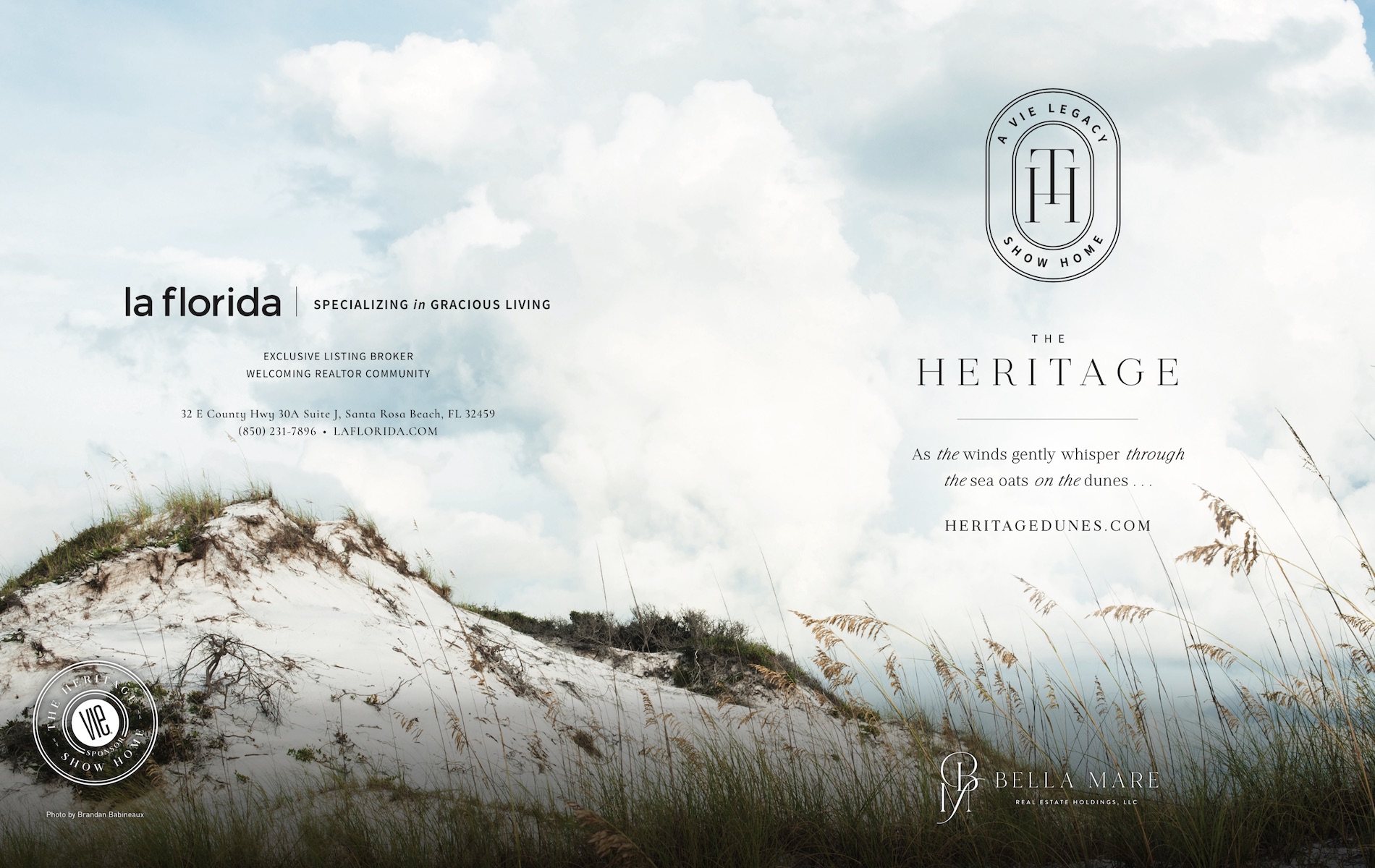 Soleil Soiree to Celebrate Heritage Dunes Community and The Heritage – A VIE Legacy Show Home
Santa Rosa Beach, Florida (June 9, 2021) – On behalf of VIE magazine, Bella Mare Real Estate Holdings, LLC, and La Florida Coastal Properties, the community is invited to Soleil Soiree, a ribbon-cutting and ground-breaking in celebration of The Heritage – A VIE Legacy Show Home. The event will take place at the homesite, 68 Heritage Dunes Lane North, on Thursday, June 24, beginning at 4:00 p.m. A ribbon-cutting ceremony will be performed in partnership with the Walton Area Chamber of Commerce. A private beach reception will follow with small bites and cocktails catered by Éclat 30a.
The homesite is located in the gated Heritage Dunes community just off Scenic Highway 30-A in Seagrove Beach, Florida. VIE magazine's fifth show home, The Heritage, is the first of nine new-build homes developed by Bella Mare that will round out the north side of Heritage Dunes. The homes will be designed by architect Gerald Burwell of Burwell Associates, Inc., built by Grand Bay Construction, and listed by the brokers at La Florida Coastal Properties. The Heritage – A VIE Legacy Show Home is expected to debut in Summer 2022, with partners including designer Duce May of Duce and Company Interiors, Weather Shield windows and doors provided by E. F. San Juan, Sub-Zero and Wolf appliances, Patrick Hodges Land Studio, Bevolo Gas & Electric Lights, Maison30a Home + Garden, and more. Soleil Soiree will include the ribbon cutting and launch celebration of the VIE show home, a blessing of the house, and information on the show home and the Heritage Dunes north community. This informational event is sure to provide area real estate professionals with a head start on marketing these nine incredible custom homes to their clients. In addition, those in attendance will receive a free copy of HOME—Inspirations for Home and Life by VIE, the magazine's first luxury coffee-table book, which debuted in 2020. It is a love letter celebrating life, architecture, and culture along Northwest Florida's Gulf Coast.
Complimentary transportation from the homesite to the Heritage Dunes beach access will be provided immediately following the ceremony. Guests will then enjoy a sunny reception on the private white-sand beach with small bites and beverages by Éclat 30a, including a signature Le Soleil cocktail. Recommended attire is beach chic.
To see more from Heritage Dunes, visit HeritageDunes.com or follow them on Instagram @heritagedunes30a.