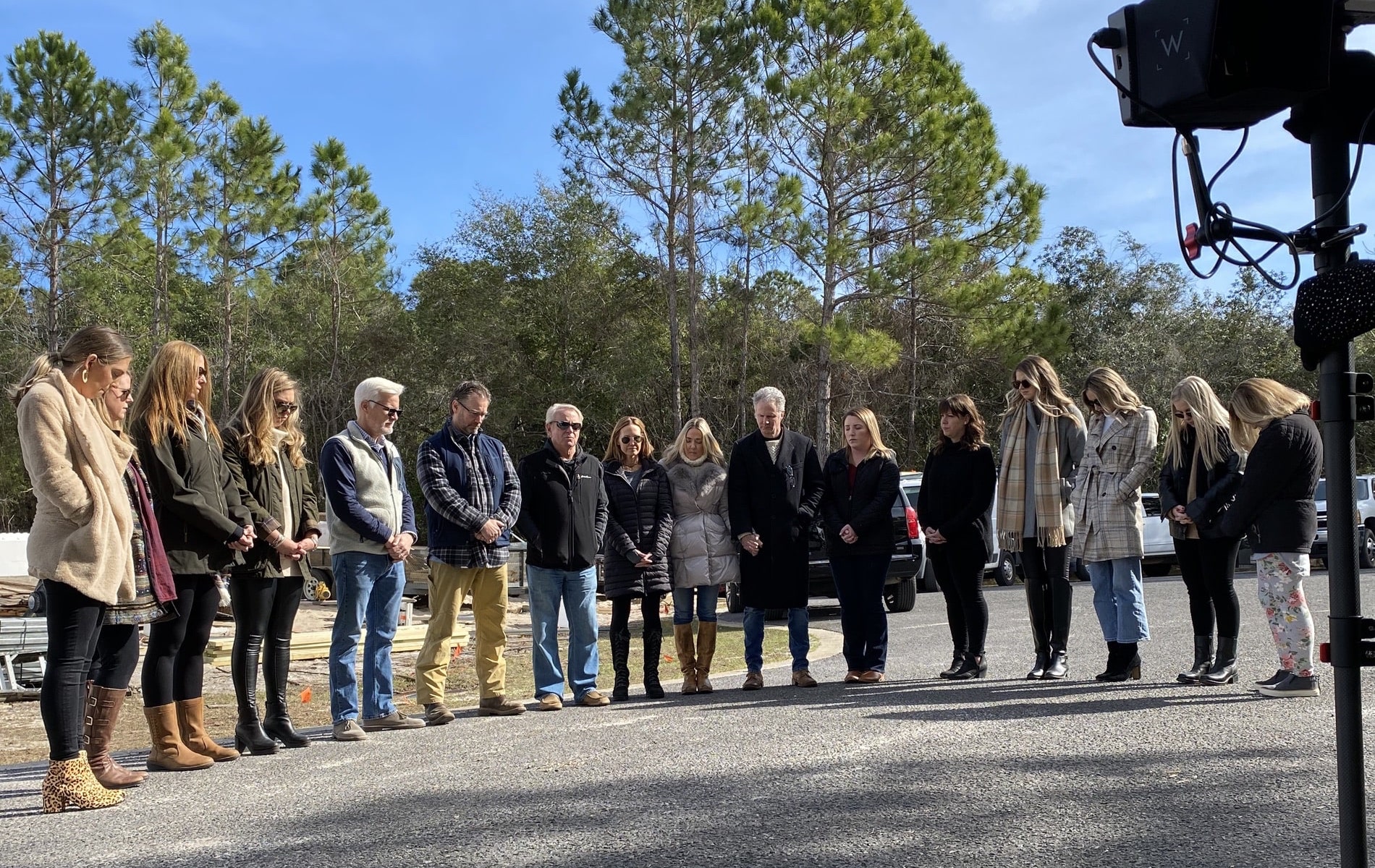 The Blessing of a Show Home
A Strong Foundation
On the morning of Wednesday, January 22, 2020, The Idea Boutique / VIE magazine staff gathered with the VIE Beach House – A Show Home creators Jim Accola and Scott Kurfirst of Coastal Elements Construction, Suzy Accola and her team from Q Tile, the film crew from AlohaBorah Media, and Pastor Gary Wingo and Jan Wingo of the Chapel at Seaside. It was a brisk day for Northwest Florida, but the sun was shining and smiles abounded as everyone gathered at the Beach House construction site for a very special blessing. Pastor Gary offered words of wisdom and encouragement, stating how a solid foundation is the most important thing not only for building a strong home but also in faith, friendship, family, and all parts of life.
As the publishers of VIE, The Idea Boutique is thrilled to be branding and marketing this show home in 2020. The VIE Beach House – A Show Home teams from Q Tile, Coastal Elements, and VIE were honored to bless this home and the good things that it will accomplish in this community and beyond! We are thrilled to work with these creatives again, having done so in 2013 with our very first show home, Maison de VIE: A Home of Inspired Ideas. It is a joy to be reunited on another project!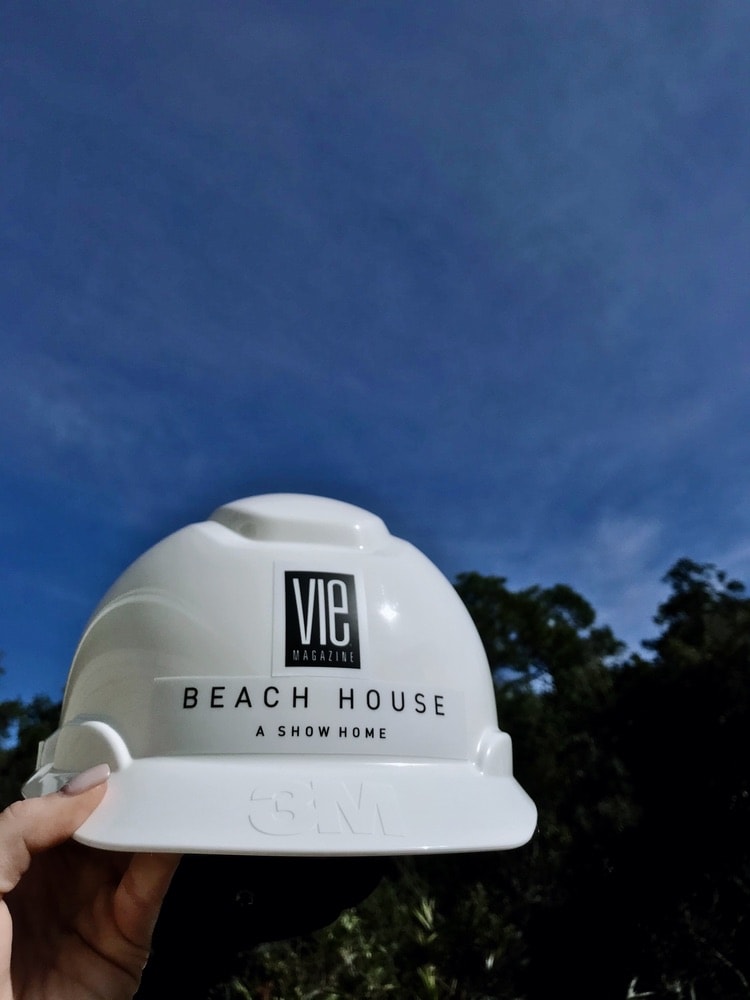 "We teamed up with Suzy Accola of Q Tile and Jim Accola and Scott Kurfirst of Coastal Elements for Maison de VIE in the WaterColor community on 30-A seven years ago, and it was a wonderful experience," says VIE founder/editor-in-chief Lisa Burwell. "It was a learning experience for all of us, as well. Since then, VIE has presented the Modern Minimalist show home with Mike and Angela Ragsdale of 30A.com and the Legacy Home in WaterSound Beach with Erin Oden, owner/broker of Coastal Luxury real estate. We think that our fourth show home with our partners is going to be bigger and better as a result of these experiences, and we are so excited about this new venture!"
VIE Beach House – Ground Breaking Trailer from VIE Magazine on Vimeo.
Deborah and Micaiah Smoots of AlohaBorah Media are also working with VIE / The Idea Boutique to produce a documentary showing the building process and interviews with all the partners involved. It will be released upon the home's completion this fall to show a real-life look behind-the-scenes of such a lofty endeavor, from inspiration to result.
Coastal Elements broke ground on the VIE Beach House – A Show Home in late 2019, and the home is expected to be completed this fall. Follow along with the story in VIE's print issues, on VIEmagazine.com, and on our social media channels as we spotlight our amazing collection of partners to help make the home shine. The home's mission is to exemplify a life well lived near the beautiful Gulf Coast of Seagrove Beach, Florida, and to help our neighbors to the east that were affected by Hurricane Michael in October 2018 and are still picking up the pieces. More details to come on how upcoming events and tours of the home will benefit those people through the VIE Foundation and our friends at The Sonder Project.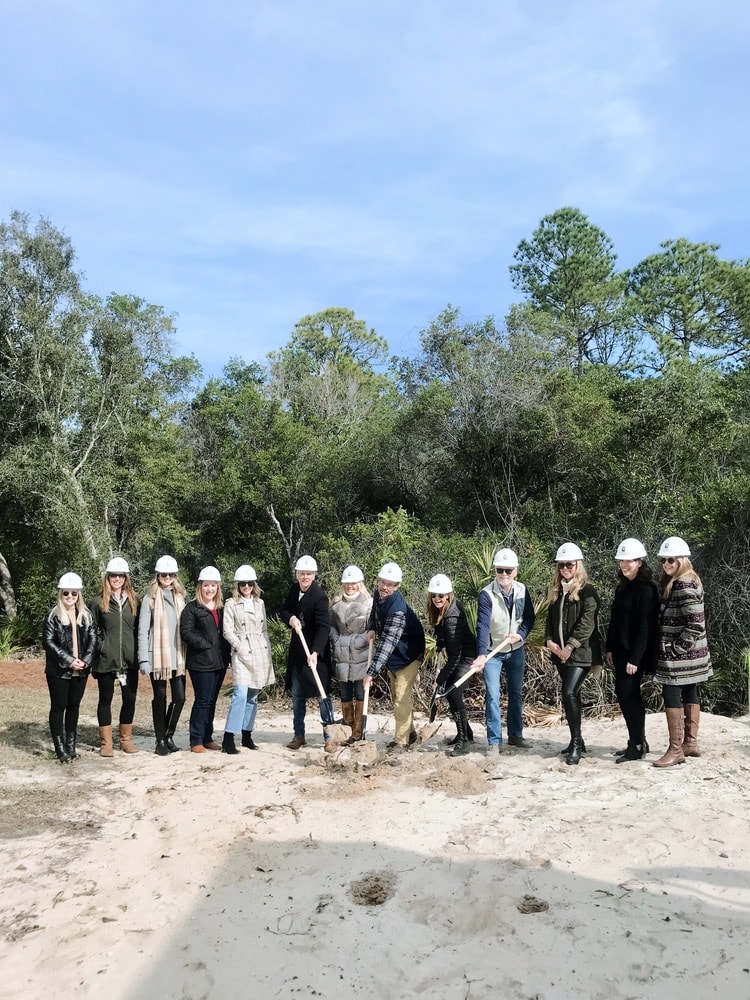 "Marketing and presenting this home in VIE is something that I am really proud of," says Lisa Burwell, "and I feel blessed that we are able to tell this story with a purpose—neighbors helping neighbors feels good."
Interior designer and owner Suzy Accola of Q Tile and Coastal Elements will implement the latest in innovative building techniques, integrated home technology, appliances, and more as they build a Beach House unlike any other.
"I am excited about curating the interior design to bring my vision to life for the VIE Beach House – A Show Home," Suzy says. "The design and decor of the home are an eclectic mix of artistic expression. We hope that someone will see an element in every room that inspires them not only from a design aspect, but also introspectively, making a positive impact on their daily lives." She and her husband, Jim, are the owners and developers on this project, and they have a heart for their community. They are dedicating a portion of the net sale of the home to designated charities, with The Sonder Project being a lead beneficiary. Suzy adds, "We really wanted to help with the ongoing relief efforts to help restore our neighbors in Panama City, Mexico Beach, and surrounding communities that were ravaged by Hurricane Michael."
One exciting component includes the energy-efficient walls, built by Coastal Elements with Fox Blocks foam technology. This system allows the builders to insert a thick layer of insulation into the interior and exterior walls that are reinforced with steel, wood, and concrete. They are incredibly strong and also protect the home from the elements, keeping the interior at a comfortable 68 degrees year-round without any heating or cooling.
An incredible lineup of partners is also on board with building materials, flooring and tile, furnishings and decor, artwork, and so much more! Stay tuned for more updates as the VIE Beach House – A Show Home takes shape.


VIE Beach House – A Show Home Partners:
American Leather

Artistic Tile

Bevolo Gas & Electric Lights

Brown Jordan

Charleston Academy of Domestic Pursuits

Cindy McCarley Designs

Coastal Elements Construction

E F San Juan

Farrow & Ball

Frank's Cash and Carry

Gregory D. Jazayeri Design

Grimes Cabinets

isidro dunbar Modern Interiors

Jonah Allen Studio

Lovelace Interiors

Maison30a Home + Garden

New Ravenna

Porcelanosa Tile

Q Tile

Sabine Hill

SICIS Tile

Summer House Lifestyle

The Beach Group Properties
For partnership opportunities, please contact Lisa Burwell directly at Lisa@viemagazine.com, call (850) 687-5393, or contact us via the form at VIEmagazine.com/BeachShowHome.