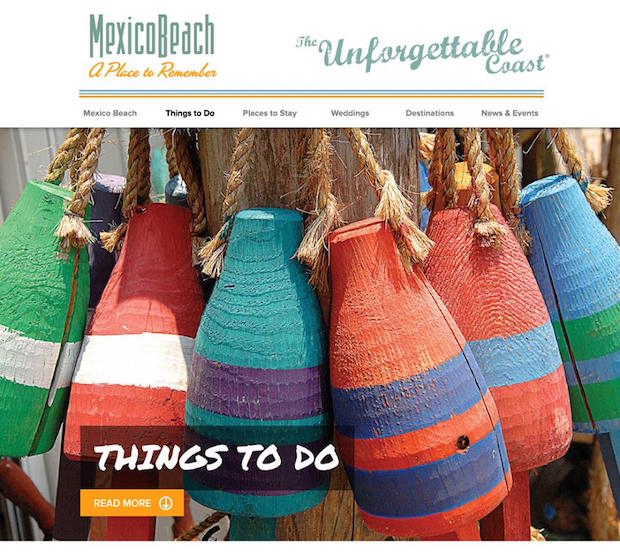 Mexico Beach New Branding Design
By Jordan Staggs
About four years ago, The Idea Boutique got the opportunity to meet with the Mexico Beach Community Development Council (CDC) to discuss rebranding their area, a three-mile stretch of white-sand beaches on the Gulf of Mexico. Our team was smitten with the town's coastal charm, its neighborhood mentality, and the professionalism and hospitality of the CDC. We were ecstatic to receive the contract to be their agency of record, but that job came with its own particular challenge: devising a branding and marketing campaign that would increase business in Mexico Beach without causing it to lose its quaint essence or charm. "We wanted it to be visited, but remain untouched," says The Idea Boutique's founder and president, Lisa Burwell.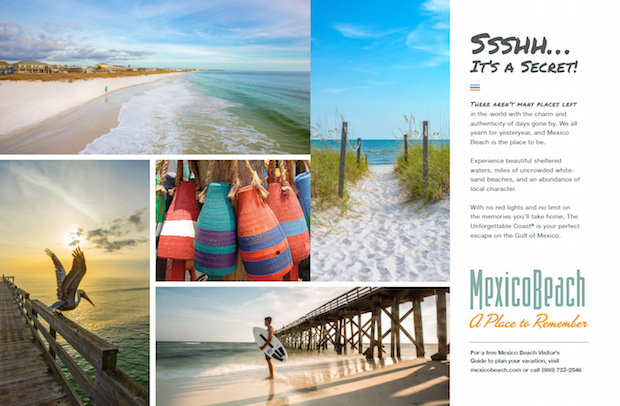 Mexico Beach lies in a remote area along Northwest Florida's Gulf Coast between the bustling tourist destination of Panama City Beach to the west and the quiet sheltered bays of St. Joseph and Apalachicola to the east. It has long been known as "The Forgotten Coast," thanks to its largely untouched natural landscape, its quiet beaches, and its hometown feel as opposed to the busy high-rises and high-traffic roads that dominate many of Florida's beaches.
"We fell in love with Mexico Beach," says Lisa. "That was the genesis of conceiving a new brand moniker for this special place—The Unforgettable Coast—a play on words, as it had been called forgotten for many years. When we morphed it into 'unforgettable,' it was a simple change but we believe it's more appropriate and descriptive of Mexico Beach. It makes all the difference for the town to stand apart from the crowd."
Since The Unforgettable Coast campaign took shape, Mexico Beach has seen a steady, healthy growth in visitors, but has retained its authentic personality as "A Place to Remember."
This year, The Idea Boutique is working to update The Unforgettable Coast branding for Mexico Beach with a fresh take on the design. The rustic look we created four years ago has been transformed with a brighter color palette and a focus on large, rich photos that show off the beauty and personality of this remote fishing village. "It was time to refresh," says Lisa, "We love working for this great place and hope it never loses what it is—some places are not meant to be changed, but rather to be appreciated."



Graphic designer Rinn Garlanger played an integral part in creating the new brand look and designs that will appear on Mexico Beach's website—MexicoBeach.com—and in its advertising campaigns for the coming year. Although upgraded with a more modern, cleaner feel, the design still captures The Unforgettable Coast brand that has been established. "I focused primarily on the three main colors in the original branding campaign—blue, green, and orange—and amped them up," says Rinn. "The old design was rustic and charming, but lacked color and vibrancy. The orange in the new designs especially makes everything pop and grabs attention."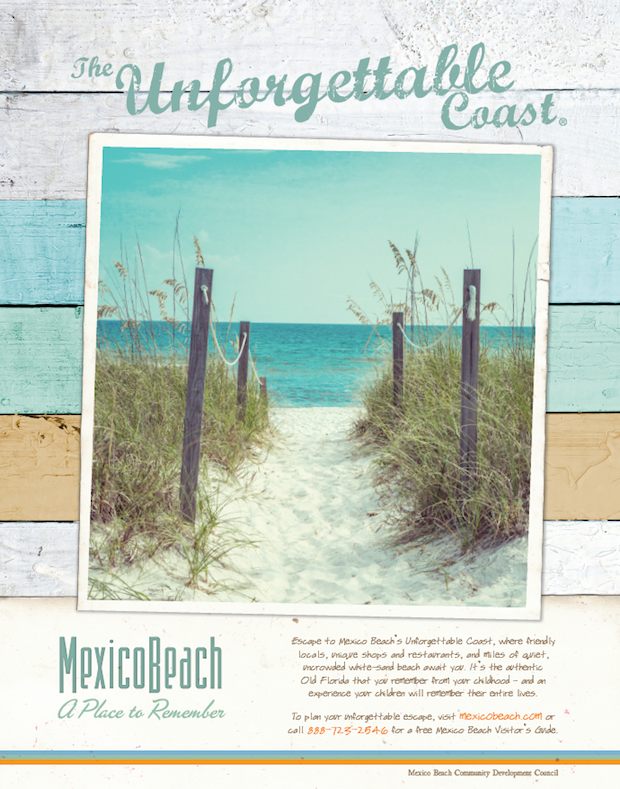 The most significant update to the brand's design is showcasing larger images. Both the new website and marketing designs have a focus on big photos that show viewers the beauty and charm of Mexico Beach. A picture really is worth a thousand words, and the grand views of sugary white sand, blazing sunsets, and neighborhood piers display how scenic and quiet the area is—perfect for a relaxing beach getaway. Vibrant images of the town's fishing culture, eclectic shops and restaurants, and year-round events are a reminder that while Mexico Beach is ideal for the tourist who wants to spend most of their days on the beach, there is still plenty to do!
"I found a lot of colorful and lively photos of Mexico Beach that are not showcased on the current website," Rinn says. "When traveling anywhere, the first thing people want to do is look up the area to see where they will be. Using large sections of the website just for imagery will improve potential visitors' perspectives on Mexico Beach and show that it truly is an unforgettable place. My favorite part was bringing all elements of the branding into play—the website, ads, brochures, e-mail newsletters—to see the designs work cohesively as a whole new Mexico Beach."
The new website design is in the coding stages and will soon be showcased on MexicoBeach.com. Until then, we hope you've enjoyed this sneak peek!