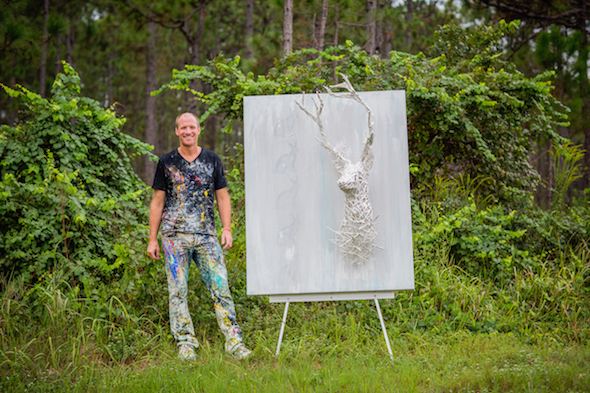 An Artist's Journey: Rebirth in the Wake of Truth
Where Have All the Flowers Gone?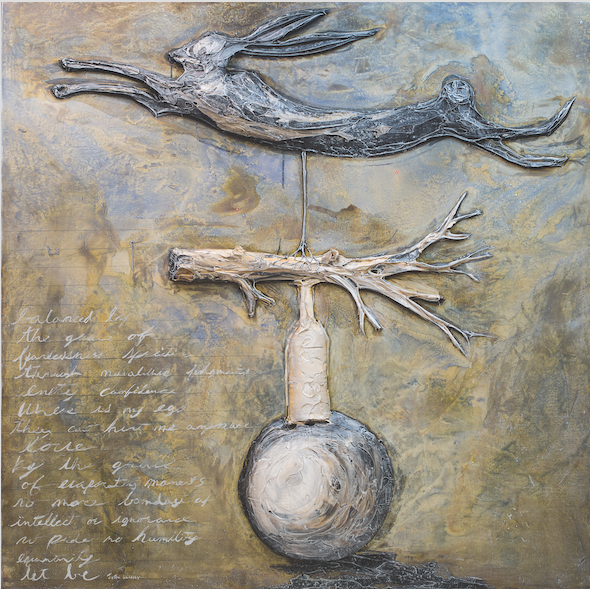 An artist stays awake late into the night, poring over his life's work. A portfolio of all he has created laid out in front of him like a storybook—a million journeys revisited in every image, painting, element, color, brushstroke, motion, idea, and inspiration. They are journeys that lead not to an end, but to the beginning of another chapter of life. The truth about life is that it goes on, and although the next step is often the most difficult to take, it's also the most exhilarating. Fear of failure becomes prevalent and one of two instincts takes over; turn back, or take that step into the unknown. The decision to step forward in the face of uncertainty is essential for the journey to continue and to light the spark of evolution.
Justin Gaffrey is ready to take the next step.
It all started with a moment of balance. Justin stood in the sculpture garden at the Walker Art Center in Minneapolis with his rental bike parked nearby and the sun on his shoulders as he gazed, transfixed, at a massive bronze structure. It was a bell—shining and hemispherical, as most bells are. By all accounts, it was unremarkable. Or it would have been if it weren't for the giant sculpted rabbit on top of it, all four legs stretched nearly parallel to the ground as it sprinted through time and space.
The hare hung there, forever in a state of suspended animation against a clear blue sky. As Justin studied it, he imagined the hare sprinting through all its issues; passing its worries by in a blur so quickly that it seemed they were actually standing still. Justin felt a connection to the rabbit in that moment. He was alone, enjoying a morning off as he wandered the sculpture garden at leisure—nothing pushing or pulling him in any direction. The feeling inspired him to write the poem Equanimity.
The Hare on Bell sculpture became a catalyst for a new creative direction as Justin found himself back in his studio in Santa Rosa Beach, Florida, the paint on his canvas seemingly acting of its own accord as he sculpted acrylic in various shades until the outcome appeared; a rabbit, sprinting, suspended over a tower made of branches, a bottle, a ball… The words of his poem were etched alongside it, creating an entirely new style of work for him. It sparked a desire to unearth and harness this type self-awareness again. He repainted Equanimity in darker tones. Later, he recreated it once more with white-coated steel wire on a background of black and blue, the stark contrast highlighting the feeling of suspension; of truly letting go of worry and letting fate hang in the balance of the universe.
This still moment of clarity in Justin's life brought forth a flurry of inspiration, with new ideas building themselves on canvas and then springing off of it as he worked with steel, wood, and other materials to create new series of works that became exploratory of the soul. Through meditation he unlocked a sense of personal renaissance, a feeling of rediscovery that then manifested in his art. Rebirth has been a prevalent theme as he moved away from previous creations of brightly hued sunflowers, poppies, hydrangeas, and other blooms for which he is widely known.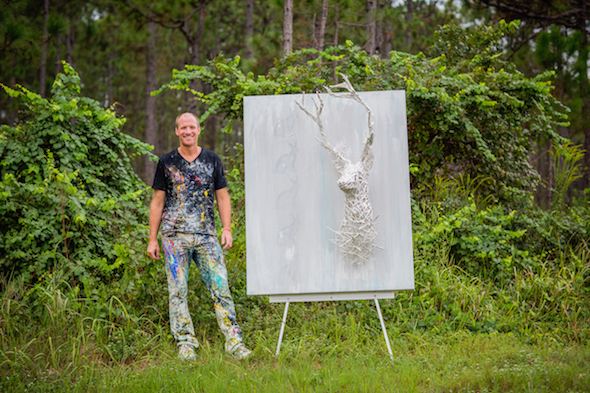 All moments must come to an end so the next one can begin.
Justin's gallery in Seaside will close its doors November 29, 2014. This signals another step forward in his journey to personal enlightenment as he continues to share truths and discoveries with the world through his creations.
Old and new can't dwell side by side. One must die for the other to live. To move forward with the birth of new exhibition work, which requires more introspection, time, and craftsmanship, Justin will be unable to paint his flower series in abundance as he transitions to this new stage of his creativity. The paintings currently in the studio are now for sale and have become "Collector Editions." Make sure you visit the Seaside studio by November 29 so you can become a collector of art with increasing value due to its limited availability. You can also visit our online gallery today at www.justingaffrey.com.
The Justin Gaffrey Studio in Blue Mountain Beach and the new warehouse in Santa Rosa Beach will remain open.
Though the flora, fauna, and landscapes revered by newcomers to Justin's Blue Mt. Beach and Seaside galleries have become his lifeblood over the years, his art has evolved, being pulled into the introspective, soul-bearing realm of the pieces he has created in the past year. Equanimity heralded the next step in the evolution of Justin Gaffrey's work, and now it is time to take that evolution one step further. Just as he once shed a chef's apron and took up a palette knife, he now sheds expectations in order to reveal his heart.
Thank you for joining him in this series of moments known as life.