The Idea Boutique Highlights of 2018 – Part One
A (Half) Year in Review
It's been a whirlwind year for The Idea Boutique and our clients, and we are excited to share the last several months' projects with you all! We are greatly looking forward to what's coming up for the rest of 2018 and beyond, from continuing to publish VIE magazine monthly to branding and designing several new clients that we can't wait to show you, as well.
Take a look at some of our highlights of 2018 so far!
---
VIE magazine Celebrates 10 Years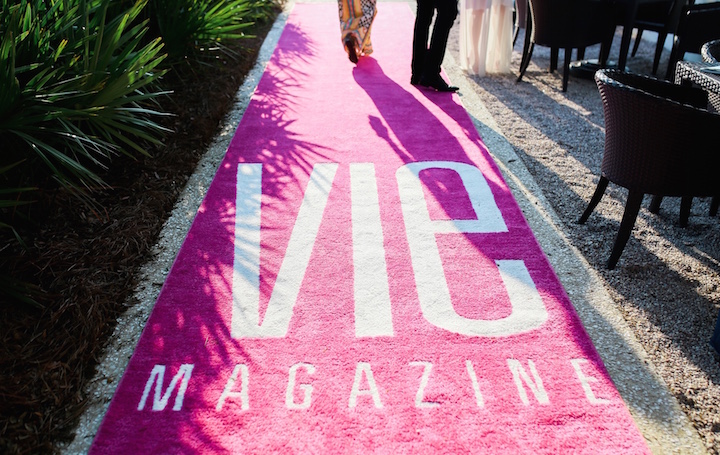 As publishers and creators of VIE magazine, the team as The Idea Boutique is so proud to have shared Stories with Heart & Soul and supporting our community for the past ten years. And it's hard to believe it's been over a year since VIE became a monthly national publication. Last year, we embarked on a tour of cities around the US including Birmingham, Alabama; New Orleans; Charleston, South Carolina; Nashville; and Boston. That tour continued in 2018 starting with our hometown Meet & Greet songwriter showcase event, and our team has been busy creating magazines and hosting events since January!
VIE Magazine 2018 Issues:
February 2018 Destination Travel Issue
March 2018 The Entertainers Issue
April 2018 The Culinary Issue
May 2018 The Couture Issue
June 2018 The Travel & Tech Issue
July 2018 The Architecture & Design Issue
August 2018 The Animal Issue
September 2018 The Home & Garden Issue – NEW!
VIE Magazine Events + More
COLA 2 COLA Meet & Greet feat. Ashley Campbell, Ken Johnson, and Andi Zack-Johnson
BG x Ashley Longshore Pop-Up Gallery Opening + Cover Shoot
The Curated NYC Grand Opening
Spring Shopping Soirée at J.McLaughlin
DG + VIE: The Age of Aquarius Party
The Animal Issue Cover Shoot
---
Lisa Burwell in The New York Times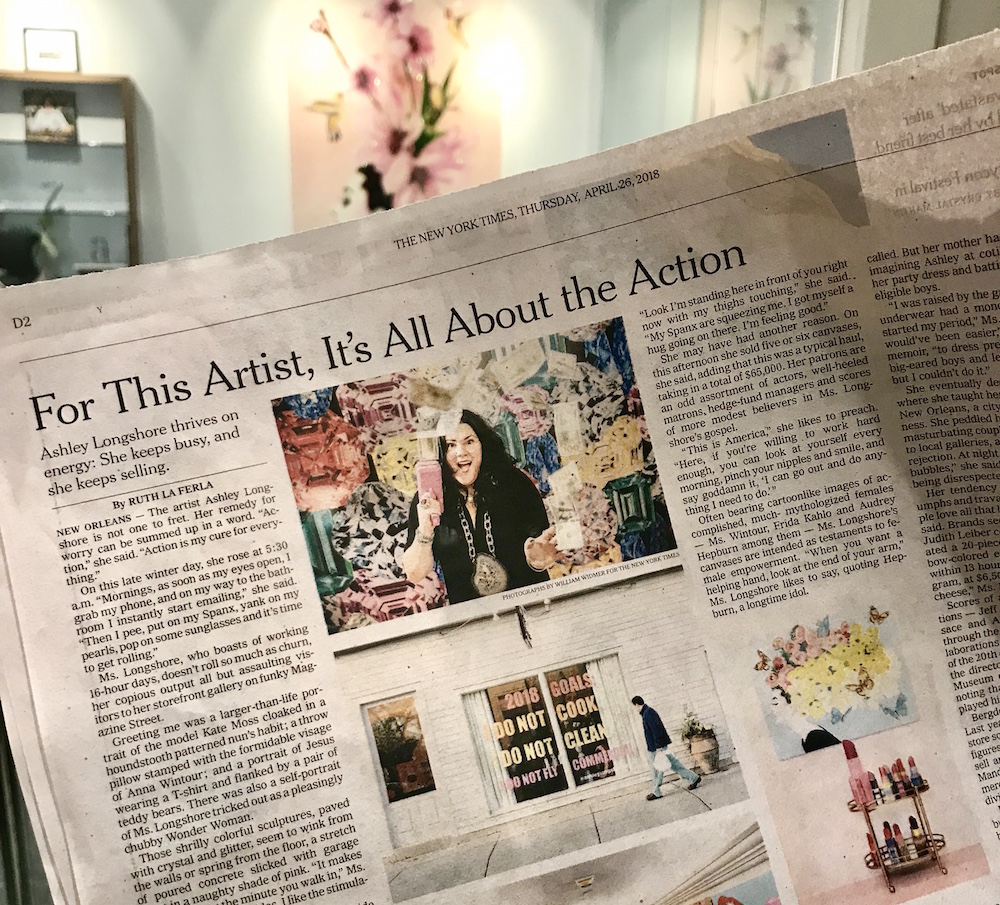 After the big grand opening of pop artist Ashley Longshore's gallery at Bergdorf Goodman in January, VIE staged a huge cover shoot with the artist in the space on BG's seventh floor and in the windows along Fifth Avenue which also featured Longshore's work. We were also thrilled that our founder and editor-in-chief, Lisa Burwell, was quoted in The New York Times' article about the event! "Lisa Burwell, the editor of VIE . . . called the artist 'a pied piper of hope and fun.' The world, she said 'just doesn't have enough of that.' . . . Earlier this month an eye-popping blowup of [Longshore's] recent VIE Magazine cover loomed over Times Square. 'No words!!!…No words to describe…,' she rhapsodized in an Instagram post."
---
Mexico Beach LOVE Campaign
As the agency of record for the Mexico Beach Community Development Council in Mexico Beach, Florida, since 2012, The Idea Boutique has been consistently working to maintain and improve the town's branding and advertising efforts. It has paid off, as this year Mexico Beach CDC reported a bed tax collections increase of 67 percent since 2014! Our latest brand refresh for the town came with the "Love" campaign. Sometimes the simplest way to promote something is through expressing ad reinforcing what people already think about it. The prevailing sentiment when it comes to this charming little beach town is LOVE. The Idea Boutique planned and executed a photo shoot to capture new images throughout the town for this campaign. The finished product shows all the things to love about Mexico Beach with a series of print and online ad designs, along with videos made for TV and online, e-mail newsletters, and more. Check out more on our Mexico Beach project page!
---
Lovelace Interiors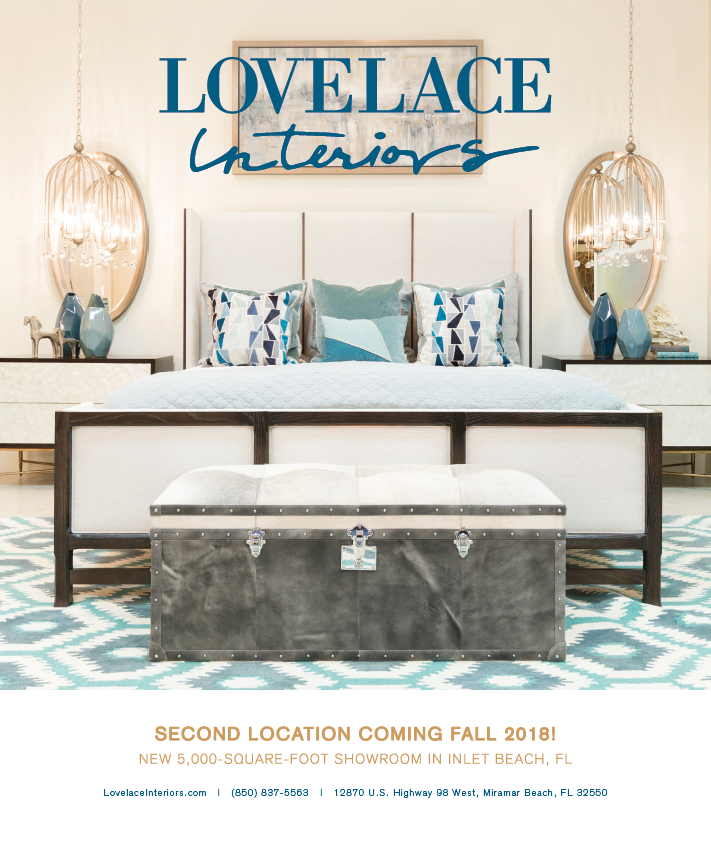 Last year, we were honored to work with Lovelace Interiors of Miramar Beach, Florida, on building out a brand-new website at LovelaceInteriors.com. This year's work for this prestigious design firm included maintenance and updates to the site, creating ads for local and national print magazines, and a collection of print and online designed items such as rack cards, signage, and collateral/branding for their new lifestyle store location, coming soon to Inlet Beach, Florida!
---
The Jewel



Welcome to The Jewel, where Modern Jewelry is Redefined for the customer who, in a world filled with abundant choices, knows the only one that matters is the one that brings joy and celebration into their lives. In early 2018, The Idea Boutique created and curated a new look and brand for the well-established Destin Jewelers, which was not only moving to a new location at Grand Boulevard Town Center in Miramar Beach, Florida, but also reestablishing its brand as a current and contemporary purveyor of fine jewelry and gifts. With start-to-finish branding from name and logo to interior design, outdoor signage, web development, packaging, social media, and more, The Idea Boutique is proud to continue working with The Jewel to create a place where shopping is an exceptional experience and women can look and feel beautiful, confident, and inspired. Visit ShopTheJewel.com or stop by the store at 495 Grand Boulevard! Check out more of our work for The Jewel in our portfolio here.
---
Sugar Beach Interiors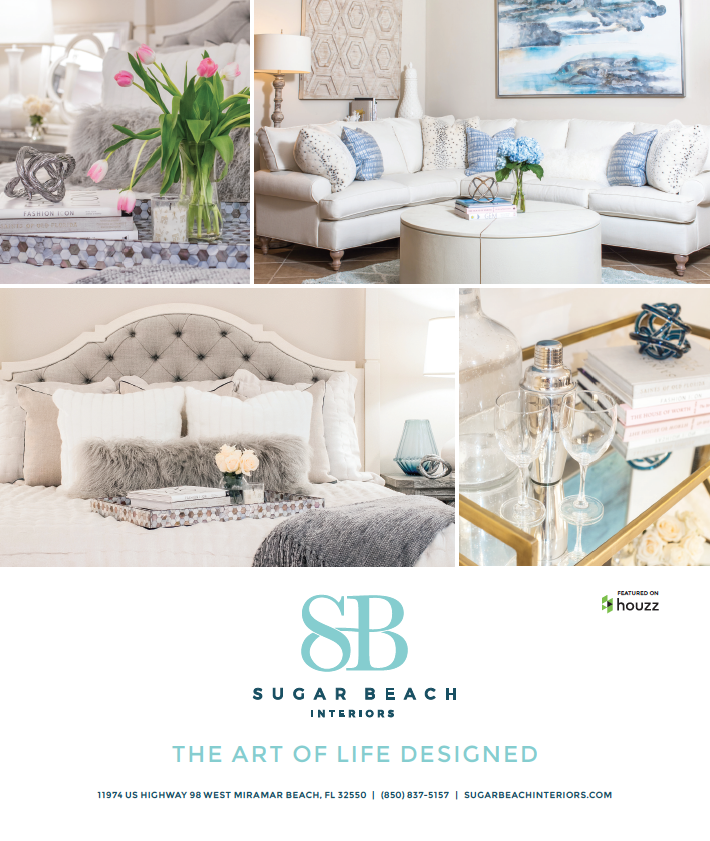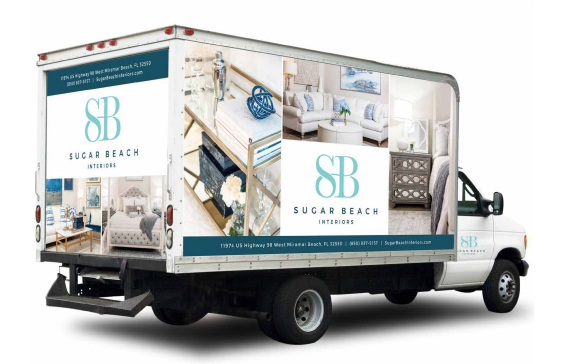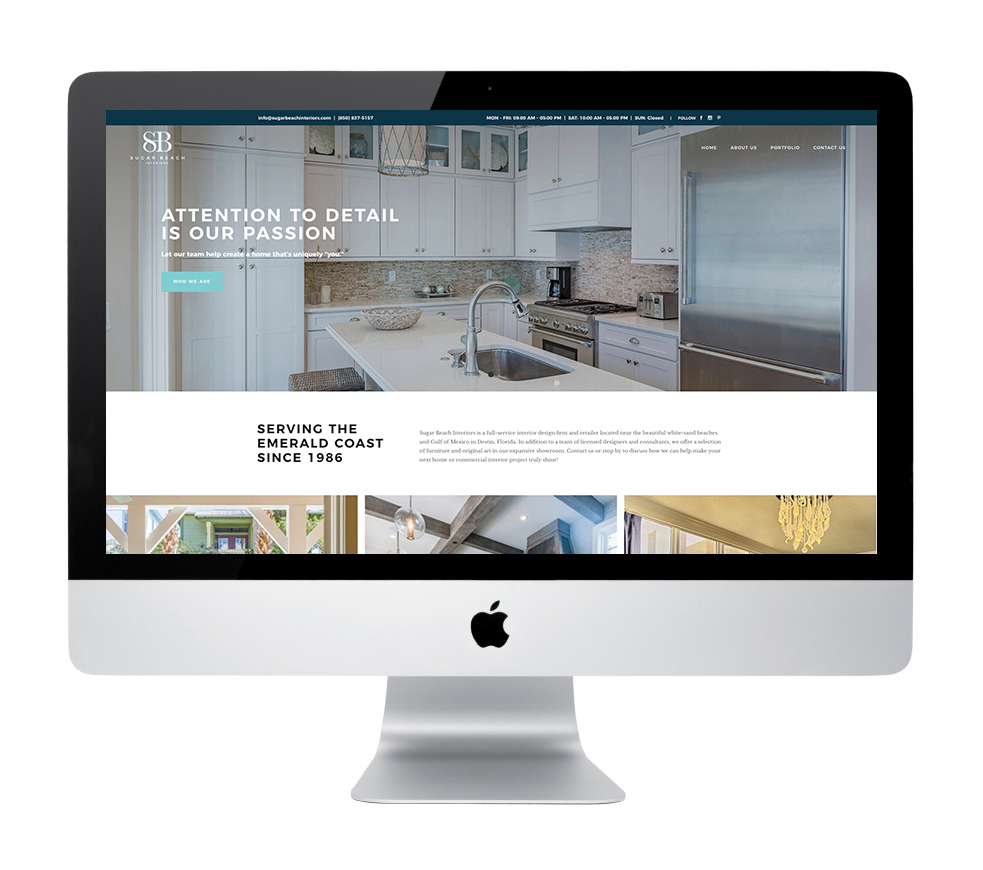 The team at Sugar Beach Interiors in Miramar Beach, Florida, is all about attention to detail, and we appreciate that as we also strive to create excellent branding and design down to the smallest point. Our services for Sugar Beach have included a new logo and website design, maintenance and updates to the website at SugarBeachInteriors.com, print ad designs, social media management, and even designing wraps to be displayed on Sugar Beach's delivery trucks.
---
DG+ VIE: The Age of Aquarius Party
As the Eleventh Annual Digital Graffiti Art Festival was underway in Alys Beach, Florida, VIE magazine / The Idea Boutique team and all of our friends got our groove on at the DG + VIE Saturday night Pre-Party. The theme this year was The Age of Aquarius, and VIE brought the magic and music of the 1960s and 70s as we celebrated the union of art and architecture that Digital Graffiti brings each year. The Idea Boutique team created everything from print posters and email invitations to social media graphics, event signs, party music playlist, and table decor. Highlights included a gorgeous floral backdrop from Flowers by Milk & Honey and Eloquent Signs, a pink carpet to welcome guests, prosecco served in disco ball cups, yard games such as Cosmic Cornhole and Black Hole Mini Golf, music from Jamm Entertainment, "Rad Libs" fill-in-the-blank table games, and the announcements of the 2018 Digital Graffiti art installation winners. See more photos from The Age of Aquarius here.
---
FOOW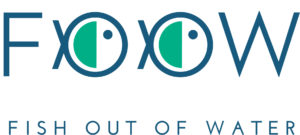 Another of our most significant projects of 2018 so far has been a full rebrand of Fish Out of Water, a former fine-dining restaurant at the WaterColor Inn in WaterColor, Florida. The restaurant closed in late 2017 for a full-scale remodel and expansion. In the meantime, The St. Joe Company engaged The Idea Boutique to help rebrand Fish Out of Water as a fun, family friendly dining destination for lunch, happy hour, and dinner. The coastal-casual vibe of the new decor included a large deck and bar expansion, making it one of the few dining locations along Scenic Highway 30-A with incredible views of the Gulf of Mexico.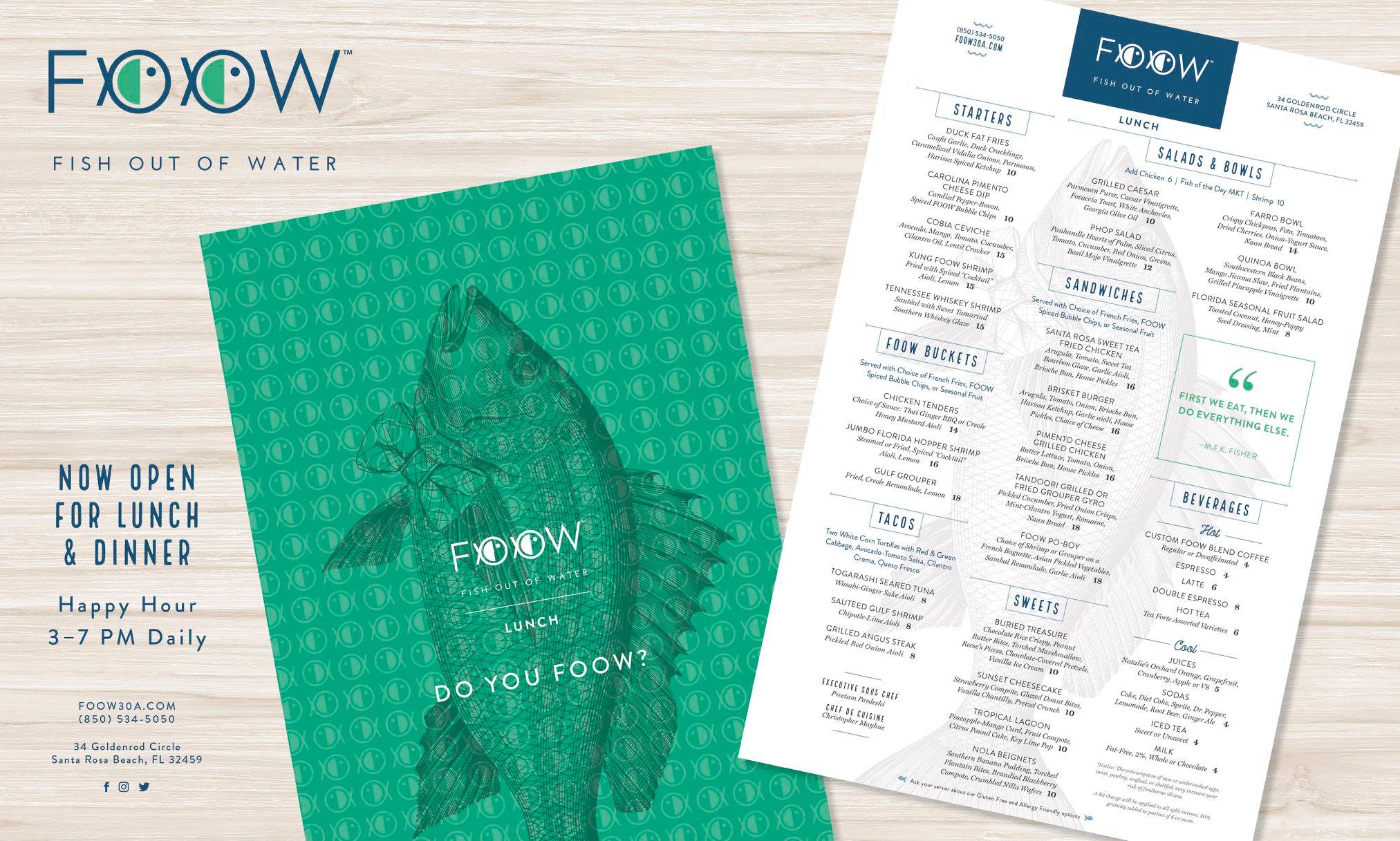 The first step came with creating a new logo that would become the brand identity for the restaurant, which The Idea Boutique proposed renaming with the acronym FOOW, pronounced "foo." This modernized update to the existing brand allowed us to have fun with the project, from a playful yet classic logo with two fish to designing coasters, napkins, and apparel with fun sayings that incorporate FOOW and fun quotes about dining and celebrating life. The deck area was christened FOOWbar, while the private dining area is called the FOOWroom.
Once the restaurant menu was set by its incredible culinary team, The Idea Boutique set to work designing new menus with another modern, playful fish theme. Lunch, Dinner, Cocktail, and Kids menus were created. The restaurant opened with tremendously positive response in late June, with the final touches in place including setup of the gift shop, signage for the front and back entrances, also designed and ordered by The Idea Boutique. We also designed custom labels for FOOW spices and other food products to be sold in the gift shop. Since opening, FOOW has already quadrupled its number of patrons for dinner from the same time span in 2017 and is expected to continue to see great success. We are so thrilled to have been part of this FOOW-tastic project!
---
Connemara Life 2018–2019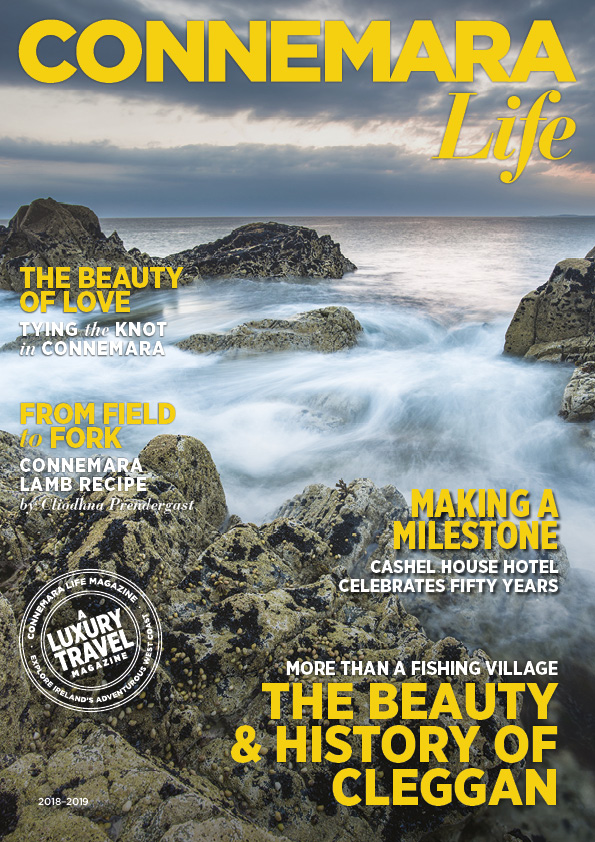 When The Idea Boutique opened its first international branch in Clifden, County Galway, Ireland in 2014, it was with a mission to showcase the area of western Ireland known as Connemara, where our founder and president, Lisa Burwell, has family ties and spent many summers growing up. The best way to share news and culture from this incredibly beautiful and charming corner of the world was to start a new lifestyle magazine, Connemara Life, which was first published in 2015. The new 2018–2019 edition was our fourth issue, and it was released in late June this year. It has already had great feedback, with stories on local hotels and eateries, outdoor adventures, food and recipes, weddings, history, and more. The cover features a stunning shot of Dunloughan Bay by Connemara photographer Mark Furniss. Visit ConnemaraLife.ie to read all the stories from this year and editions past.
---
Clients in Times Square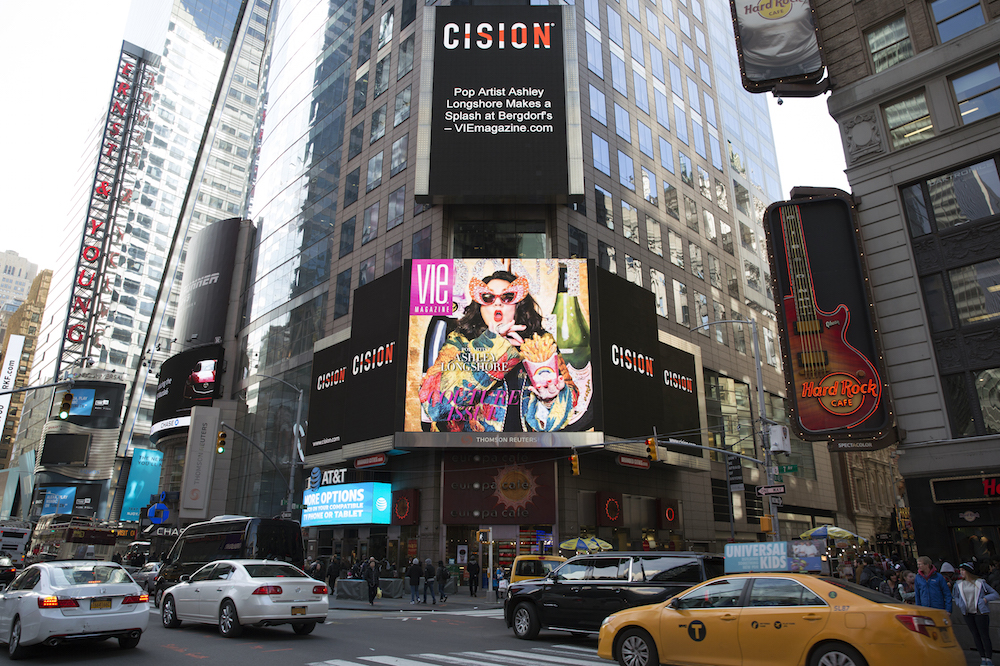 We love seeing our clients up in lights! This year, VIE magazine's May Couture Issue cover starring Ashley Longshore, photographed by Carlo Pieroni at Bergdorf Goodman in New York, was seen in Times Square. It made quite a splash with the colorful, fun nature of Longshore and her stunning wardrobe with pieces by Gucci, A Morir Eyewear, and Judith Lieber.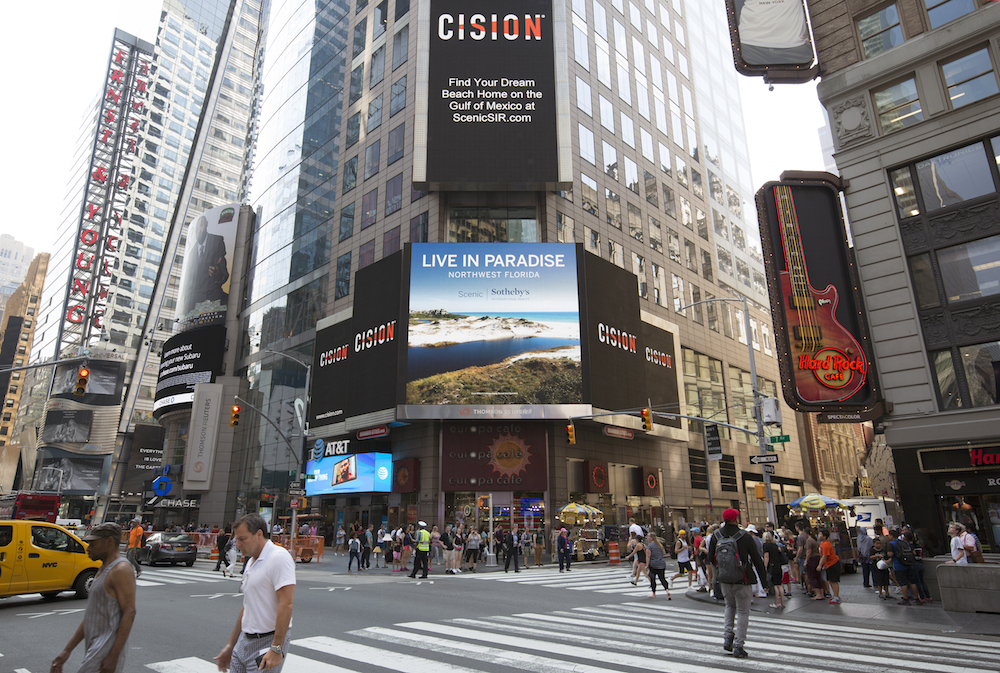 Another client, Scenic Sotheby's International Realty, beckoned New Yorkers to the beach with its Times Square billboard featuring the beautiful Gulf of Mexico and homes of WaterSound Beach, Florida. A press release distribution accompanied each of these billboards picked up by over 200 national media outlets. Contact us to see how The Idea Boutique can get your brand featured in one of the world's most populated tourism destinations! 
---
Sign up for our free e-mail newsletter to see what's coming up! Just enter your e-mail below: