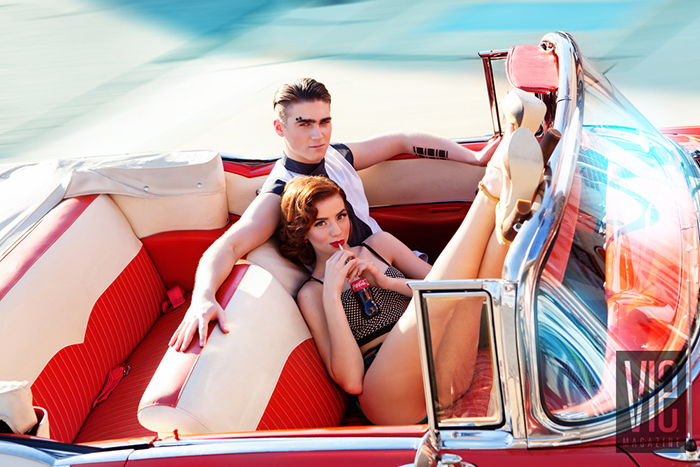 VIE Magazine's Dystopia Meets Utopia Photo Shoot
Back to the Future
As marketers and the creators and publishers of magazines, we love storytelling. VIE's Culinary & Couture issue, featuring the model and designer competition winners of South Walton Fashion Week (SWFW) 2016—Bella de Leon, Jordan Canamar, and designer Richelle Valenzuela—is on the shelves and online, and this one has an original story we were excited to tell.
On Thursday, February 2, 2017, two worlds collided in what our editorial and creative team dubbed "Dystopia Meets Utopia" during the cover shoot with Italian photographer Carlo Pieroni and his wife and assistant, Carol Wilson.
SWFW 2016 Emerging Designer competition winner, Richelle Valenzuela of Pasaporte, took the prize as the first menswear designer to win the event. His futuristic style coupled with Carlo's penchant for pinup-style photographer brought a spark of creativity to our owner and editor-in-chief, Lisa Burwell, as our team examined the challenge of showing off the talents of both models, the designer, and the photographer in one shoot. Thus, "Dystopia Meets Utopia" was born: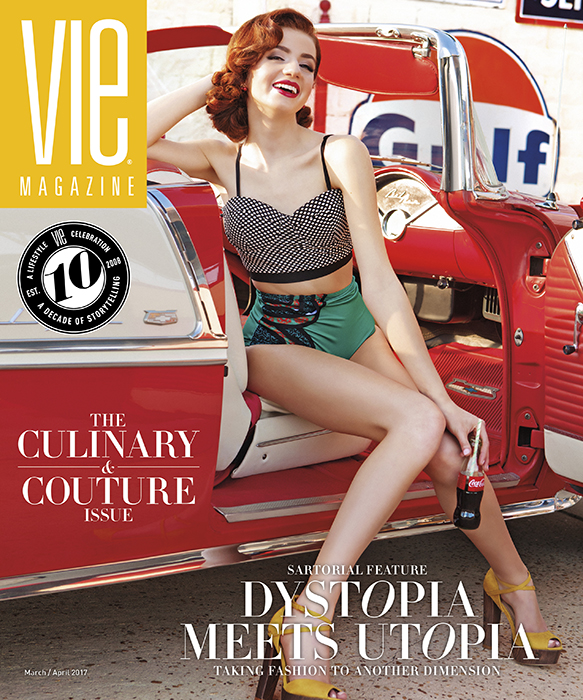 Jordan is from the future and Bella, from the past. They meet when Jordan visits Bella's realm in the city of Florala, Alabama, during the 1950s, and the chemistry is undeniable. Bella is intrigued by Jordan and his world; he is fascinated by the way she rejects the society she was brought up in. Stars cross and they fall in love. Bella ultimately decides to leave her world behind, and the story ends as the pair walks hand in hand to Jordan's future world.





We focused on making sure we had all the right elements to transfer the story from words to picture and film, starting with the location. We needed a place that would convey our vision. Who could have guessed that one of the most glamorous photo shoots we've produced would be located at such a small rural town as Florala, Alabama?
The town possesses an authentic vintage feel and welcoming locals who helped us bring our vision to the finish line. Everything was real and from Florala, including the very rad vintage gas station, Smith's Fillin' Station, located right across from the Florala Pharmacy. Owner Charles T. Smith was a gracious host, and we can't thank him and his family enough! Then, of course, there's the car. The stunning red-and-white 1955 Chevrolet Bel Air was on loan from Sonny Helms of the Andalusia Classics and Streetrods car club just north of Florala. Sonny and club president Ronnie Kilgore stayed on set of our shoot and gladly helped move the car, took some photos for their own social media, and even let us hop in for a team photo.



The story of the shoot was inspired by the look of Pasaporte, Richelle Valenzuela's brand and winning collection from SWFW 2016. We had the opportunity to see Jordan Canamar rock out Richelle's collection on the runway, and now readers can catch that in the photo shoot. From hair to posture and build, Jordan had that edgy look that we're looking for to convey our story. Bella DeLeón, also known as DJ Bella (yes, she's a DJ!), has an incredibly versatile look, which made her transition from '50s pinup girl to dystopian wonder woman a fun experience. Essential to the story, Richelle re-created his pink men's jumpsuit for Bella and also made a futuristic number for her to wear in the story's final scene. Richelle revealed to us later that he has decided to start a women's line, and we are excited to see it!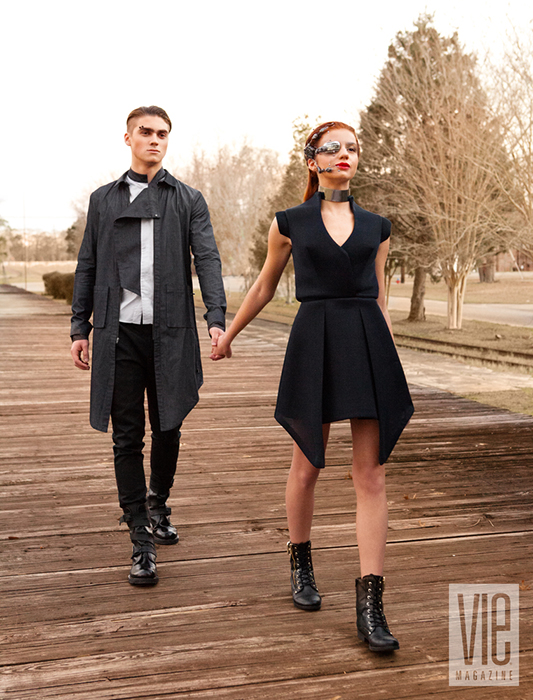 Not just telling the story in print, our VIE video for "Dystopia Meets Utopia" is also live, shot by Amanda Crowley and featuring an all-new original song by Emma Crowley.
Dystopia Meets Utopia: Taking Fashion to Another Dimension from VIE Magazine on Vimeo.
Check out more of the shoot from concept and behind-the-scenes to the final images on VIE's Pinterest page, read the full story at VIEmagazine.com, and get more on Instagram, Facebook, and Twitter. Let us know what you think!