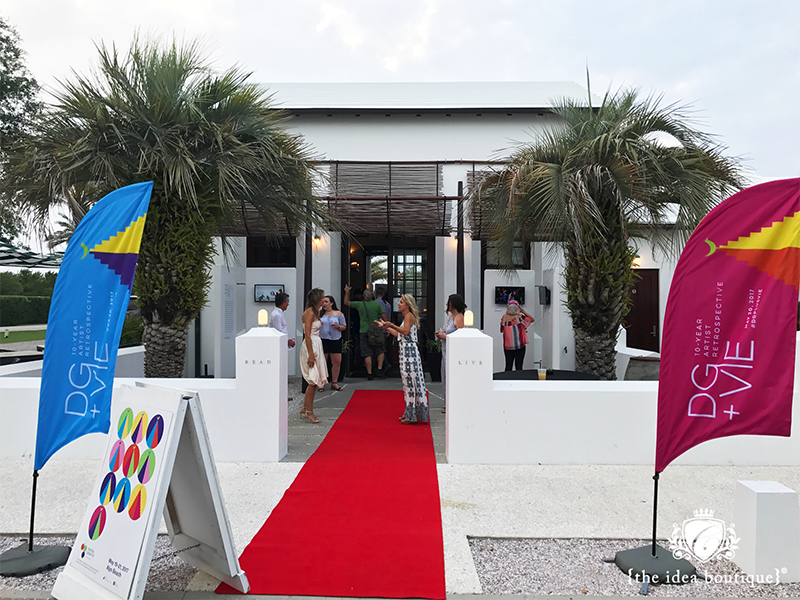 Digital Graffiti Festival Celebrates 10 Years with VIE
A Decade of Digital Art and Storytelling
Trendy art galleries aren't only found in big metropolitan cities such as New York or LA. There's a better way to show off art than in an enclosed studio space, and Alys Beach has been doing it for the past ten years with its Digital Graffiti Festival. This year, The Idea Boutique was in on the action to help the Digital Graffiti celebrate its tenth year with a special Ten-Year Artist Retrospective pre-party presented by VIE magazine on Friday, May 18, 2017 from 6:00 to 8:00 p.m.
If you're unfamiliar with Alys Beach or the Digital Graffiti event, let us briefly dial you in: The town and festival never fail to impress, whether you're a local or visitor. The white-walled beach town is unlike any other and possesses characteristics that are charming, chic, romantic, breathtaking, and artistic. It's like each building was pieced together perfectly to complete a puzzle. In fact, the whole town is a masterpiece in itself created by Khoury & Vogt Architects, and its white walls create the perfect art gallery for the annual Digital Graffiti Festival.
Though we had the pleasure of throwing a DG + VIE party with a Studio 54-themed collaboration in 2013, planning this year's occasion was extra special to us for a couple of reasons. One being that Alys Beach is a neighbor, and we have really enjoyed seeing the area evolve over the past few years. The second reason is that we're not only celebrating the tenth year of Digital Graffiti, but the tenth year of VIE magazine, The Idea Boutique's flagship publication, as well. As publishers and owners of VIE, we can wholeheartedly say that it has been a wonderful, thrilling, and remarkable ten years of storytelling and creating, and we are beyond excited for what the future will bring.
We know how sentimental and special a milestone a decade can be. We wanted to incorporate the past ten years of the Digital Graffiti Festival and showcase how far it has come by showcasing the past nine "Best of Show" winning artists, along with this year's winning artist, in a digital art gallery setting at the newly renovated Fonville Press cafe.


Photo Courtesy of Jim Clark
Photo Courtesy of Digital Graffiti
We came up with the idea of building clean, sleek white walls within Fonville to display the art on TV monitors, some paired with headphones to include audio. Our cofounder and vice president, Gerald Burwell, who is also a licensed architect, was the mastermind of the chic designs of the walls along with marketing manager Amanda Crowley. Each wall intersected with another to create the gallery feel. To add a modern, cool factor, the walls were joined together by chrome pipes. It was a perfect blend of the sophistication of Alys Beach and its ultramodern Digital Graffiti Art Festival, along with VIE's branding as a publication featuring storytellers and artists around the world.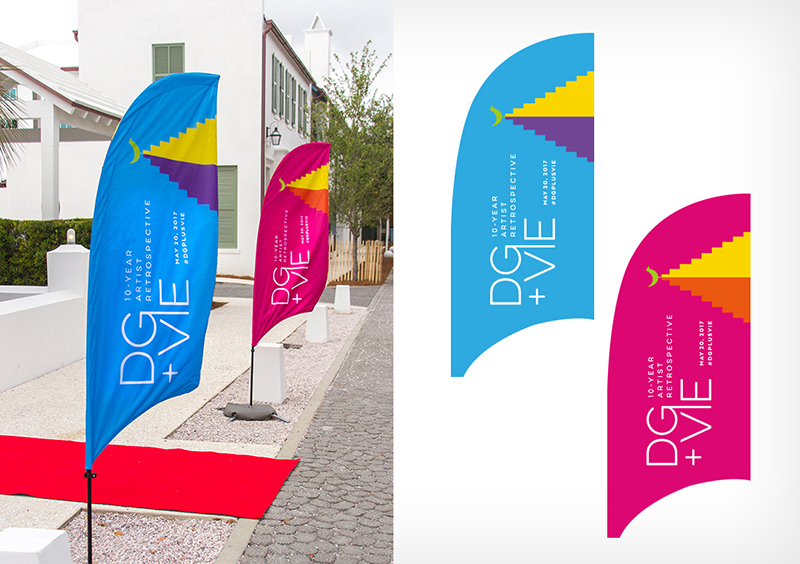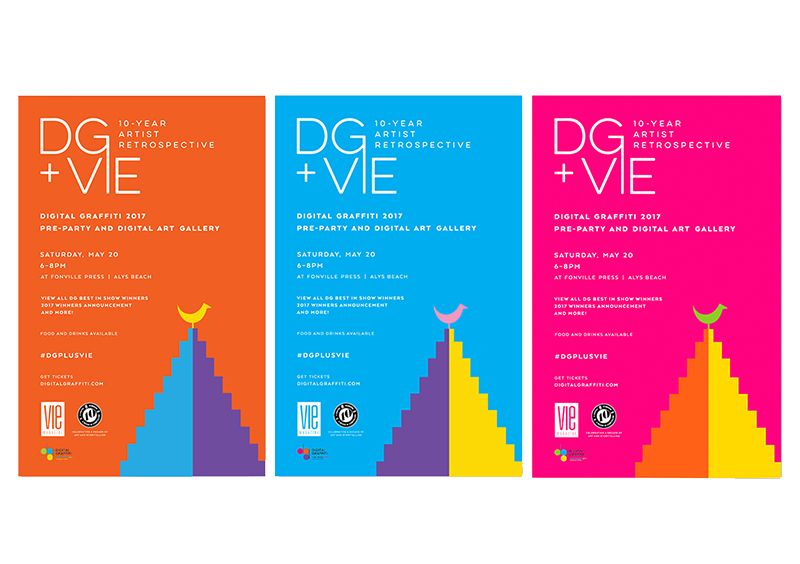 We utilized the new DG+VIE logo on every detail to keep the branding cohesive.
Photo Courtesy of Jim Clark
The custom-built walls weren't the only wow factor project added to the party. To commemorate ten years of a tradition and our publication, we knew we had to make it spectacular. The Idea Boutique and VIE are known to strive for "above and beyond" when it comes to our work, especially events! This ten-year celebration was an opportunity for us to make both DG and VIE really shine. While we loved our first DG + VIE logo, it was time to give it a facelift and make it sparkle. Our graphic designer Hannah Vermillion was up for the task, and delivered a new DG + VIE logo that is sophisticated, hip, trendy, classy, and aligned perfectly with both brands. We incorporated it into banners, drink tickets, flags, posters, web and email graphics, and more.


On top of the DG + VIE revamp, we also decided to refresh our own branding for this and future events, especially with the magazine's remaining 2017 city tours. We wanted The Idea Boutique and VIE to have a nice-looking, sophisticated booth to show off its ten years of magazines and phenomenal photo shoots, as well as other branded collateral to hand out to guests at DG and other events. A big, beautiful banner was designed and made for us to showcase behind a six-foot display table, featuring covers and rich content from The Idea Boutique over the years. As marketers, we made sure no detail was forgotten. Reiterating your brand in any way you can and showing it in the best possible light is a great way to tie everything together visually, as well as spark interest from guests at the event, so the next time you're throwing a party for your brand, remember to think about how to put together your décor cohesively with your look, or let us do that for you! E-mail us at info@theideaboutique.com to see how we can build up your brand through our expertise in event planning. It's what we do.
"Everything I Never Learned in School Author and Motivational speaker Darin Colucci's book signing at DG + VIE event during the Digital Graffiti Festival 2017; Photo Courtesy of Jim Clark
Photo Courtesy of Jim Clark
We also had the pleasure of featuring author and motivational speaker Darin Colucci at the Digital Graffiti Festival pre-party. We had the pleasure of creating his brand, Darin Colucci, from a new website to book design, publishing, and more. We were absolutely thrilled to have him in our hometown at the event to sign and sell copies of his new book on success, Everything I Never Learned in School, published by The Idea Boutique. This inspirational, easy to follow book is a must-have and will change the way readers view life and happiness for the better. The book is truly a success tool we feel strongly about. Once you've read it, you'll know why! You can find it on Amazon and Barnes & Noble.

















With a full house, it's safe to say that the 10-Year Artist Retrospective event was a success! Not a spot of the party was left unnoticed. Everyone mingled, enjoyed libations and food from Fonville Press, and interacted with the art displays we built, entered giveaways at our VIE booth, and chatted with Darin at his book-signing table. The winner of Digital Graffiti Festival 2017, Kameron Neal of Brooklyn, New York, was announced at the event after a lovely speech from DG curator Brett Phares. Congrats, Kameron!
We are so thankful to Alys Beach and Fonville Press for allowing us to use their space, the DG community for welcoming us, our guests for coming out and helping us celebrate Digital Graffiti Art Festival and VIE's tenth-year, and our special guest, Darin Colucci, for taking time to come and help improve the lives of those in our community.
For branding, design, event planning services, and more, check out our Services or call us at (850) 231-3087.