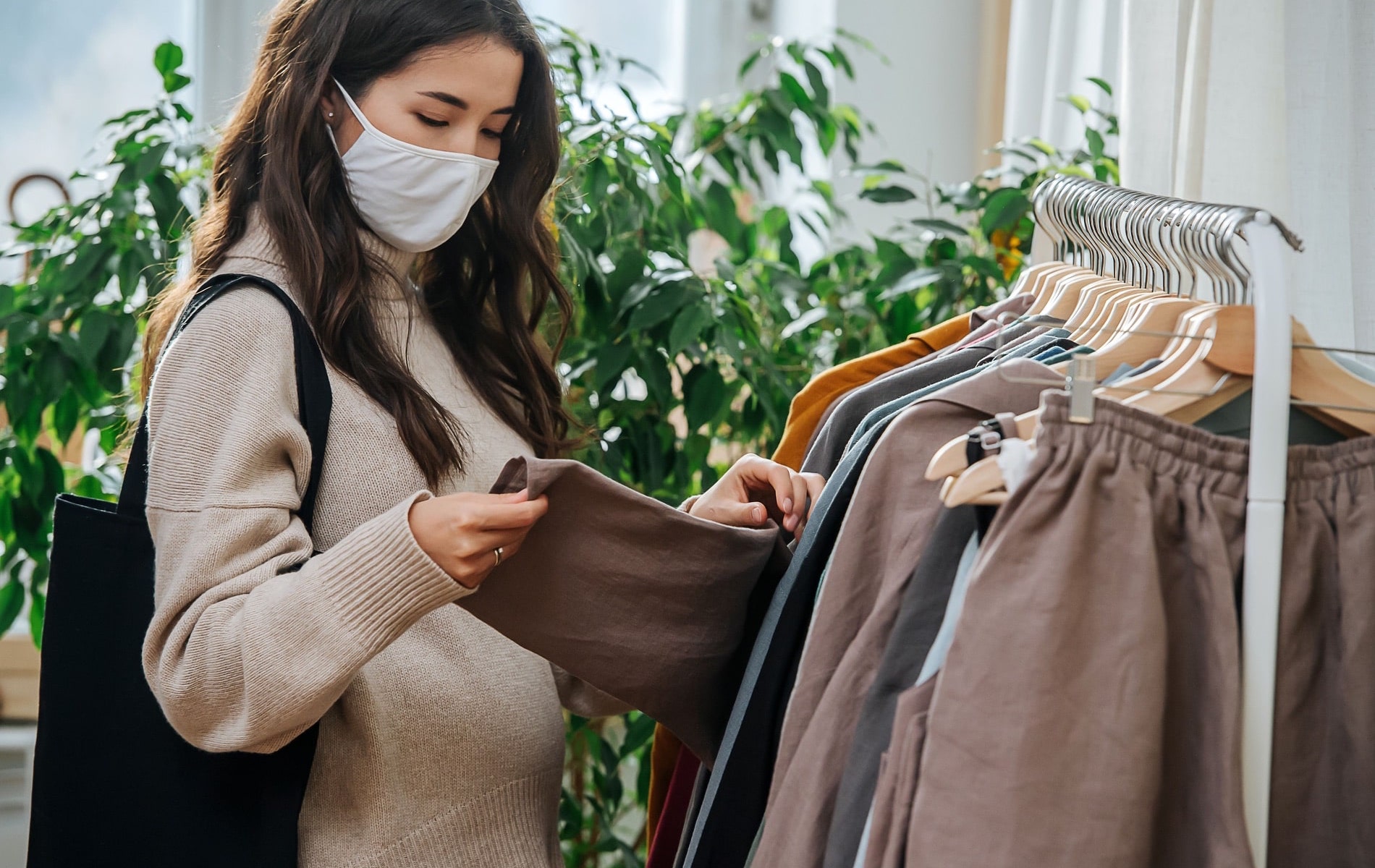 Five Sustainable Clothing Brands to Support This Earth Day
By Emme Martin
As we celebrate Earth Day, we at The Idea Boutique have gathered a list of five sustainable clothing brands we believe are doing a great job with credible marketing. Fashion has been known as one of the most polluting and wasteful industries in the world, but many consumers are combating this issue by making more conscious decisions when deciding what brands to support. As sustainability awareness rises, we see more and more brands switching to more ethical practices and producing "green," eco-friendly products. With so many of these buzzwords out there, it can be challenging to navigate ethical brands that back up their claims to reduce environmental impact. Known as a process called "greenwashing," some brands will convey a false impression that their products are more environmentally sound. Sustainability is a broad term, with many differing opinions of what it means—one of the reasons many brands get away with these false claims. There are currently no regulations on what a company decides to claim as "sustainable," "green," or "eco-friendly." We've found that transparency and honesty are crucial for brands showing integrity in their commitment to sustainability and to making sure consumers don't get fooled by the green sheen, a.k.a. greenwashing.
Suppose sustainability is essential to you, or you are trying to incorporate more sustainable products into your life; researching brands is the best way to make sure you choose those who support saving Mother Earth just as much as you do. The site GoodOnYou.eco, founded by a group of campaigners, fashion professionals, scientists, writers, and developers, works to help inform consumers on their favorite brands by gathering information to create an easy-to-understand score on how sustainable their practices are. By typing in the name of a brand, the site will tell you how well they're treating the planet, workers, and animals on a one-to-five rating scale. The true meaning of sustainability embodies more than just using recycled products; it means treating workers fairly, knowing where your products are coming from, and taking steps to make sure the whole process, from design to delivery, is environmentally sound. We think these five sustainable clothing brands are doing a good job of living up to their claims; but most importantly, they recognize that they are not perfect and that there is always room for improvement no matter how "earthy" are.
First on our list, we bring you Stella McCartney. This is one of our favorite luxury fashion brands that also happens to be sustainable. Designer Stella McCartney believes "The starting point is not design. The starting point is sustainability." When visiting their website, users can navigate the sustainability page, which lists the brand's mission state, materials, innovation, social sustainability, and impact measures. Having a page like this one is vital for brand transparency. The brand also includes blog posts related to their sustainable efforts. Stella McCartney uses an Environmental Profit and Loss (EP&L) tool that measures their greenhouse gas emissions, water use, water pollution, land use, air pollution, and waste across their entire global supply chain. Customers can observe the results of these environmental impact measures, including total carbon emissions saved and areas impacted, on the "measuring our impact" page on the site. Stella McCartney also makes sure to address their commitment to the Ethical Trading Initiatives, a leading alliance of companies, trade unions, and NGOs that promote and respect workers' rights around the world. Although, the brand could be more transparent in listing the countries that supply them. The brand does a great job by listing its materials and sources, including recycled polyester, organic cotton, and regenerated cashmere. Stella McCartney is realistic about their commitment to sustainability, claiming that they are not perfect and are working towards finding new ways of sourcing environmentally sound fabrics and lowering environmental impact. By providing consumers with these resources, the company can help them feel at ease knowing that the brand is doing its best to live up to its claims.
View this post on Instagram
View this post on Instagram
View this post on Instagram
Next on our list is the denim company Boyish Jeans. This one is important because jeans are notorious for having a significant impact on the environment. According to Business Insider, it takes on average 1,500 liters (about 396 gallons) of water to produce a single pair of jeans. The Boyish brand states that it uses about one-third of the amount of water most regular denim uses. Boyish Jeans, founded by Jordan Nodarse, is committed to being completely transparent with consumers about what materials and chemicals the manufacturers are using, where they purchase from, and how they share the certification and transaction receipts to prove these claims. Nodarse describes this devotedness, saying, "This is not optional, it's necessary." Having a founder and CEO who is candid about their passion for helping the environment goes far in marketing for sustainable brands because it instills trust. Boyish uses recycled cotton, recycled water, and compostable packaging. The latter is brilliant because it shows consumers that the company is committed to being sustainable in all aspects of production. The homepage of the Boyish Jeans website even lists the brand's total impact on the environment, reiterating their promise to be sustainable. The brand does an excellent job through direct marketing to make sure that consumers also think of sustainability when they think of Boyish Jeans, which is key to building brand loyalty.
View this post on Instagram
View this post on Instagram
View this post on Instagram
Yana Barankin and Eric Dales founded Tamga Designs in 2014 out of curiosity for sustainability and a desire to be a positive fashion force. After moving to Bangladesh, Barankin and Dales saw firsthand the injustice among fast fashion factories in these countries. It is evident Tamga isn't just doing this to be trendy; they are aware of the fashion industry's issues that many turn a blind eye to, and Tamga is the founders' way of mending the problem. Tamga Designs believes it can only be sustainable by using renewable materials, recyclable garments, and ethical production practices that enable workers to thrive. Like others on our list, the Tamga Designs website has many resources claiming why, how, and where they choose to be sustainable. TamgaDesigns.com explains what sustainable fashion means to them and why clothing should be ethically made and eco-friendly. Making these statements visible and easy to access makes consumers feel more connected and confident in supporting the brand. Tamga also believes the sustainable fashion industry doesn't need any more neutral tones or basic cuts. Their garments are full of life and color, with the website describing that each garment is a free-flowing statement of art. They want customers to feel like they don't have to sacrifice style to be sustainable.
View this post on Instagram
View this post on Instagram
View this post on Instagram
Another sustainable all-star brand we're loving is Girlfriend Collective, known for their ethically made activewear. According to Girlfriend Collective, trash looks better on you than it does polluting the planet. They turn old plastic bottles, fishing nets, and other waste into bras, leggings, and shorts "you'll never want to throw away." Their website includes many witty remarks on their sustainable efforts, such as "Our best selling sports bra, made from 11 recycled water bottles each. Don't worry; we clean them." By using wit, they bring a lightheartedness to their cause, which isn't a common association with sustainability. Their website describes what each item is made of, going so far as disclosing the exact number of water bottles used to produce a pair of leggings. Just by visiting their website, consumers can become educated on all aspects of their production and why they do what they do. They list an in-depth mission statement, listing claims such as "A freely negotiated collective bargaining agreement is in force that permits this practice," and "The organization shall not engage in or support the use of child labor as defined above." We don't think it would be possible for Girlfriend Collective to be more transparent about what they stand for. With items ranging from sweatsuits to leggings and sports bras, the clothing is practical and reasonably priced. Girlfriend Collective is doing an excellent job of providing consumers with a sustainable option for their activewear needs.
View this post on Instagram
View this post on Instagram
View this post on Instagram
Last but not least on our list is the fabulous Christy Dawn. Founded by Christy B., the brand's mission statement is to "honor Mother Earth." They believe in living in harmony with nature and hope to inspire others through products made to celebrate an innate connection with one another and with the natural world. Their dresses are beautiful and intentionally timeless, meant to be worn for years or even passed down through generations. The longer one can wear a garment without throwing it away, the more sustainable it is. Christy Dawn uses classic and feminine silhouettes that make consumers feel great and never go out of style. Christy Dawn also has endless resources on its website describing its commitments to sustainability. One of the promises includes using "deadstock" fabrics—the excess material left behind by other fashion companies. Thus, many of their dresses are of limited quantity; but according to Christy Dawn, it's worth it. All of their photo shoots take place in beautiful fields filled with flowers, making the connection between the earth and clothing evident. Christy Dawn believes being sustainable is not enough. The brand aims to create intimate connections with the communities and ecosystems that support it. Christy Dawn does an excellent job of portraying a loving relationship with Mother Earth that many green lovers can relate to and support.
View this post on Instagram
View this post on Instagram
View this post on Instagram
We hope you enjoyed our list of five sustainable clothing brands that mean what they say. It is essential to keep in mind while shopping sustainably to find items that you will want to wear for years to come and have a fit close to perfection. Perhaps the most critical aspect of marketing a sustainable company, clothing or otherwise, is having the visuals and facts to back it up. With so much information readily available on these sites, these brands do an excellent job of making consumers feel confident they are helping make a difference in the environment, making it a positive exchange that builds brand equity and consumer loyalty. We hope more brands can inspire change and more justice within the fashion industry. Happy Earth Day, flower child!